A historic former tobacco factory in Sydney's central business district becomes a multi-tiered food and drink destination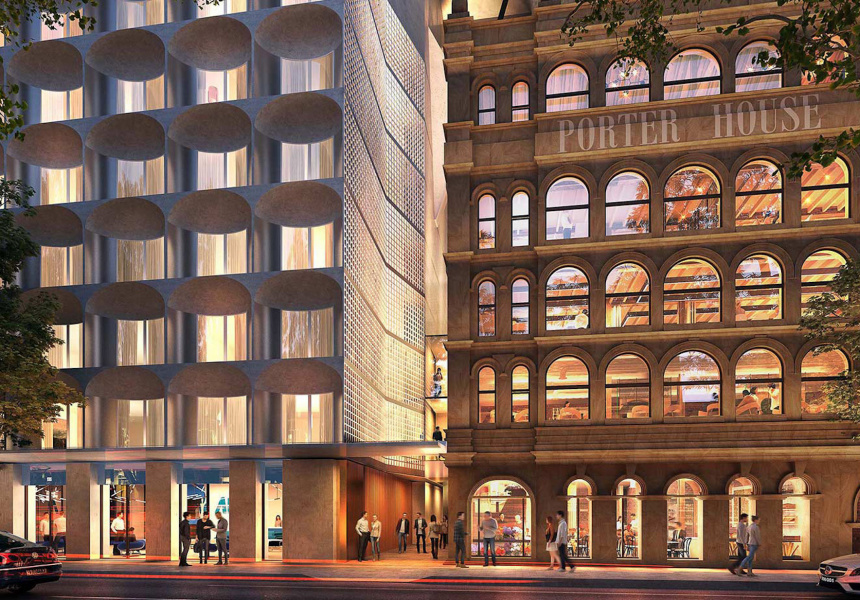 Porter House – a CBD building that began life in the 1870s as a tobacco factory and warehouse, later housing a furniture maker and leather merchant – will soon become a tiered drinking and dining destination . The venues are part of the new M Gallery hotel on Castlereagh Street, which will occupy 10 levels of a new 36-storey tower (which will also include 131 residential apartments) adjacent to the historic building; the two will be connected by glass walkways.
Three venues – Henry's Bread & Wine, Dixson & Sons and the Spice Trader Bar – as well as private dining spaces and function rooms, will be spread over five levels. Henry's Bread & Wine, Dixson & Sons and the hotel are scheduled to open in July, while Spice Trader is expected to launch in the spring.
On the ground floor, Henry's Bread & Wine will be a European-style deli and wine bar. An on-site florist will sit alongside baristas making coffee, while the kitchen will offer take-out breakfast and lunch options, as well as dine-in options. Although the menus have yet to be finalized, you might expect Wagyu Reubens pastrami and bagels stacked with smoked blue-eyed trevalla and fennel. A four-metre wall of wine will be filled with mostly Australian drops, as well as champagne. Pair the vino with snacks like a pork and pistachio terrine and a shrimp roll with a fermented chilli cocktail sauce.
The brewery, Dixson & Sons, is named after the family that built the original tobacco warehouse. It will be run by Emrys Jones (former head chef of Fish Butchery). Rather than adhering to a single kitchen, it will instead be NSW product led, with a focus on reducing waste. Seafood will be purchased whole and the various pieces used in dishes from Dixson & Sons and Henry's Bread and Wine, while fruit and vegetables will also be used whole – for example, the scraps could be used to make a vinegar . Native ingredients such as bush tomato, native thyme, lemon myrtle and lime will be in heavy rotation. Dishes may include salt-cooked beets with labneh, leatherwood honey, and buckwheat; roast lamb with eggplant and miso purée; and potatoes roasted with bush tomato salt.
On the top floor of Porter House will be Spice Trader, a room flooded with light thanks to a half-glass paneled roof. The two floors between Spice Trader and Dixson & Sons will have luxury meeting rooms and dining spaces.
Next door, the $94 million Porter House Hotel by M Gallery, will offer 122 rooms. But his team says the hospitality offer will play the main role.
"The intention has always been for the hotel to be a sophisticated act of support for Porter House's three food and beverage destinations," Erin Proud, the hotel's director of guest experience, said in a statement. "The Porter House building has not been used in its entirety for many decades, so we wanted to offer Sydneysiders and visitors to our city the opportunity to explore and connect with this majestic and timeless building through to these new food and beverage experiences."
The hotel will offer a range of rooms and suites – some with views of Hyde Park – as well as a heated rooftop pool and garden, plus a fitness centre. A massive 11-story mural by Colombian-Australian artist María Fernanda Cardoso has already been created on the exterior wall of the new tower.