Always Pan Sale: Save on the famous Our Place Pan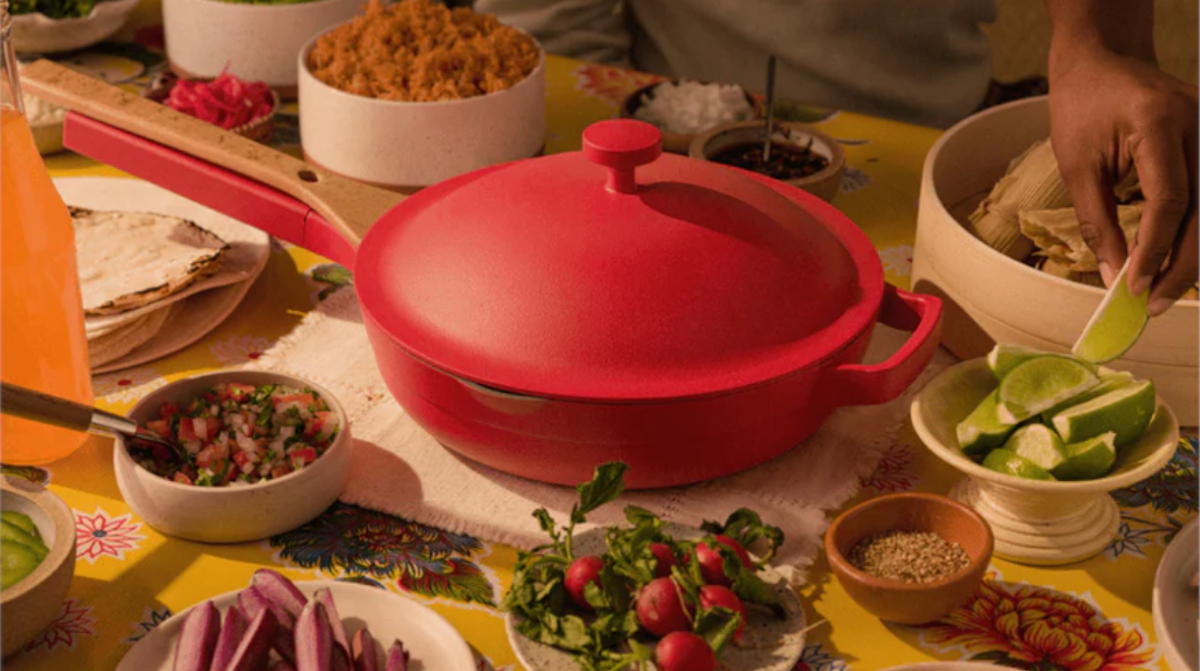 Chances are if you have Instagram, TikTok, are a fan of Selena Gomez, or have discovered a love for cooking, you're probably familiar with the Always Pan. With an MSRP of $145, it aims to be the do-it-all kitchen tool that can replace eight other pieces.
It currently comes in 11 unique shades and is on sale for just $108. And yes, our place not only cuts the pan, but also cuts the prices of kitchen utensils, dishes, mugs and other essential tools in what it is dubbed the fall sale.
You can see all that is reduced herebut first, we share our favorite deals…and it starts with Always Pan.
Arena Media Brands, LLC and respective content providers may receive compensation for certain links to products and services on this website.
At its base, the Always Pan is a high quality cooking pan designed to be used for a multitude of purposes and to prepare a number of tasty dishes. Our Place says it can fry, boil, braise, sear, steam, strain and sauté. It is beautifully designed enough to be a serving dish and stores easily.
It works on gas, electric and induction hobs and comes with a custom beach wood spatula that can rest on the handle. Many pan handles can get hot, so there is a layer around the handle to keep it cool.
As it has a diameter of 10 inches, you can cook large meals.
At $40 off, it's the perfect time to spruce up your stovetop, give a serious kitchen upgrade, or get what could be the perfect holiday gift.
First was the Pan, then came the pot. specifically the perfect pot which sits at just $123 – but fair warning, some colors are already sold out. Like the Always Pan, Our Place created this multifunctional pot. So while it can certainly boil water, it can also be a pot, pan, steamer, colander, braiser, and even a a dutch oven.
And for lovers of pasta (or any dish where you'll need to drain the water), it has a built-in colander and spout for easy draining. The lid is modular so the strainer can be removed and although it appears to be stone, it is actually an aluminum body with a non-toxic ceramic coating. It weighs 4.5 pounds with the lid.
If you want Our Place's two most iconic kitchen utensils at once, this bundle gives you the pan and pot for $231.
If you are looking to get rid of plastics, this Container collection up to $48, starting at $65, and comes with three glass storage containers. You can use them to store food, but also to reheat or serve. You can also choose from three fun colors.
You have just acquired an apartment or a new place? Or do you just want to spice up your cooking and cooking? This Dinner on Selena's set offers you the Always Pan, four glasses, four dinner plates at a very advantageous price. Not to mention that all the colors are matched… just choose between Rosa and Azul. Plus, with this purchase, 10% of the proceeds go directly to the Rare Impact Fund.
These are just some of the best deals, but if you're looking for a set of plates, a few bowls, or even mugs, we strongly recommend that you view the full sale section here.
Prices are correct and items in stock at time of publication.