an exotic breakfast in Hanoi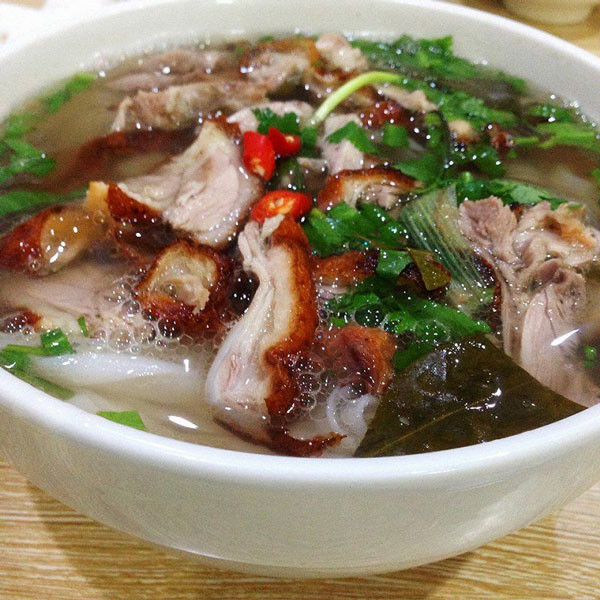 Originating from the mountainous provinces of Cao Bang and Lang Son in northeast Vietnam, the specialty has been brought to Hanoi and becomes a change of pace for the morning.
Instead of being made with beef or chicken like the usual Pho (traditional Vietnamese noodle soup with beef or chicken), Pho vit uses chunks of fragrant roast duck with shiny red skin.
Careful cooking method
Similar to Hanoi's specialty, Pho bon-noodle soup with beef or Pho-ganouille soup with chicken, Pho vit uses large flat rice noodles, accompanied by small pieces of beautifully presented roast duck with shiny brown skin and garnished thin slices of duck sausage. .
According to Phi Linh, a chef from Pho Vit Lang Son in Tran Duy Hung Street, eliminating the characteristic smell of this bird is the most important step when cooking Pho vit.
"After being cleaned, the duck is washed with alcohol to remove odors. The skin is smeared with a golden sauce made from honey or malt mixed with soy sauce," he told the Hanoi Times.
"The duck breast is stuffed, sewn and marinated for a few hours to absorb the spices before being roasted. The finished product has a mouth-watering brown color," he added.
Secret ingredients
In order to add more flavor to the dish, Pho vit broth is the broth of boiling duck and pork bone stew with onions, ginger and other secret ingredients.
Unlike Hanoi beef noodle soup, which is loved by many for its clear broth, Lang Son duck noodle soup is darker and brighter. Yet this dish doesn't cut diners' appetites but brings in a whole new flavor, combining fragrant macaroni or Clausena Indica leaves and fatty roast duck.
Pork bones are cooked for hours over low heat resulting in a broth that has a natural sweetness and fragrant flavor while the broth remains clear. "There is no need to add MSG or other additives to the broth to enhance the taste," Linh said.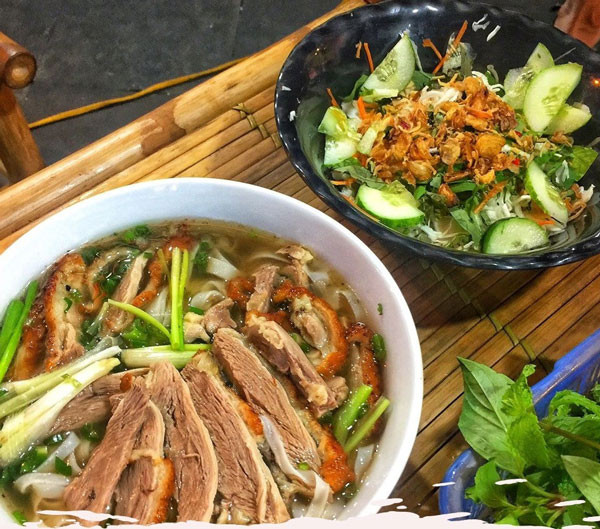 Before being served to diners, each bowl of Pho vit is topped with a spoonful of dark water taken from a separate bowl. This water is decanted from the belly of each roast duck, after soaking up the spices stuffed inside such as macaroni sheets, onions, lemongrass, garlic and soy sauce. Many diners find Pho vit bowls to be flavorful due to the addition of this special "spice".
The final step is to sprinkle green onions and bean sprouts on top to add a weird flavor to the dish. Guests can enjoy lemon pho vit, bamboo shoots soaked in chilli vinegar and raw vegetables.
Winning the hearts of the foodie world
For many Hanoians, having a piping hot bowl of Pho vit, which is served with scallions and bean sprouts, is the best way to start a new working day. However, many people choose this dish as a special weekend treat.
If the traditional Pho bo can be found everywhere in Hanoi, the duck noodle soup is quite difficult to find. Chef Phi Linh of Pho shop lives on Tran Duy Hung Street thinks there are less than 30 restaurants serving this specialty in town.
Another popular restaurant Pho lives in the capital is a small restaurant located at 193 Trung Kinh Street in Cau Giay district. The owner is from Cao Bang. The restaurant is simple without even a sign, but always packed with diners from very early in the morning until 10-11 am.
Tuoc Dao, a regular customer at the restaurant, shared that he comes here every weekend. "This dish tastes really different. Crispy roast duck is drenched in a rich broth, creating a very delicious flavor. There are also duck sausages here, which will get you hooked after one try," he told the Hanoi Times.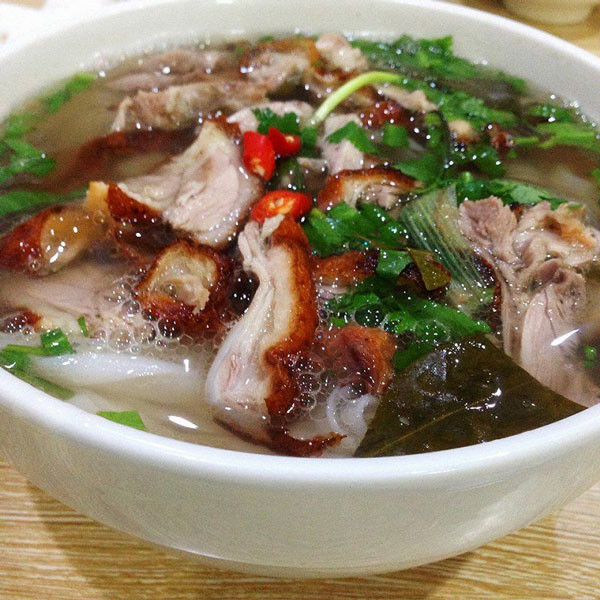 The price of Pho vit starts at 35,000 VND or 1.5 USD and 50,000 VND or 2.14 USD per bowl for children and adults respectively. In addition to the main course, the restaurant also offers pork legs and free green tea so diners won't get bored.
For another option of the specialty of Cao Bang province at the restaurant, dinner can either try the mixed sweet and sour Pho vit or the Banh cuon Cao Bang – Cao Bang's steaming rice cake.
Mixed sweet and sour Pho vit is made with similar ingredients to normal Pho vit, but added with fried onion and sweet and sour fish sauce. Meanwhile, broth is served as an additional dish.
Meanwhile, Banh cuon Cao Bang is different from the normal Banh cuon in Hanoi. Instead of sweet and sour fish sauce, steamed rice pancakes from Cao Bang province are served with pork bone broth accompanied by minced pork paste, steamed egg and spicy salted bamboo shoots.
Similar to Pho vit, Banh cuon Cao Bang is priced at $2.14 per serving at the restaurant.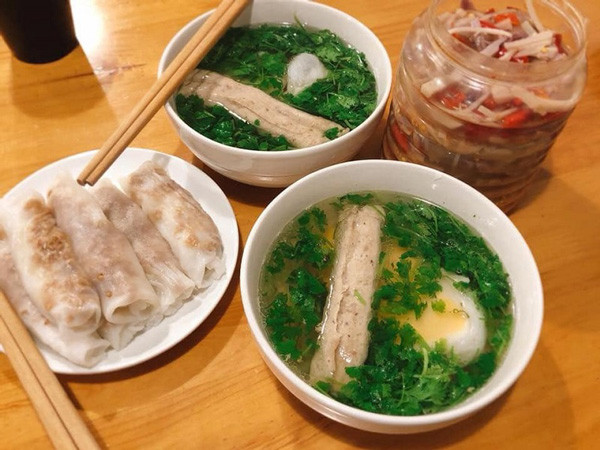 Besides these dishes, diners who have breakfast at the restaurant also have the opportunity to taste other specialties of Cao Bang province such as Banh gai or black glutinous rice cake, chestnut as well as to buy vermicelli and dried bamboo shoots.
Source: Hanoi Times