Dominic the Food Critic: Sweet Basil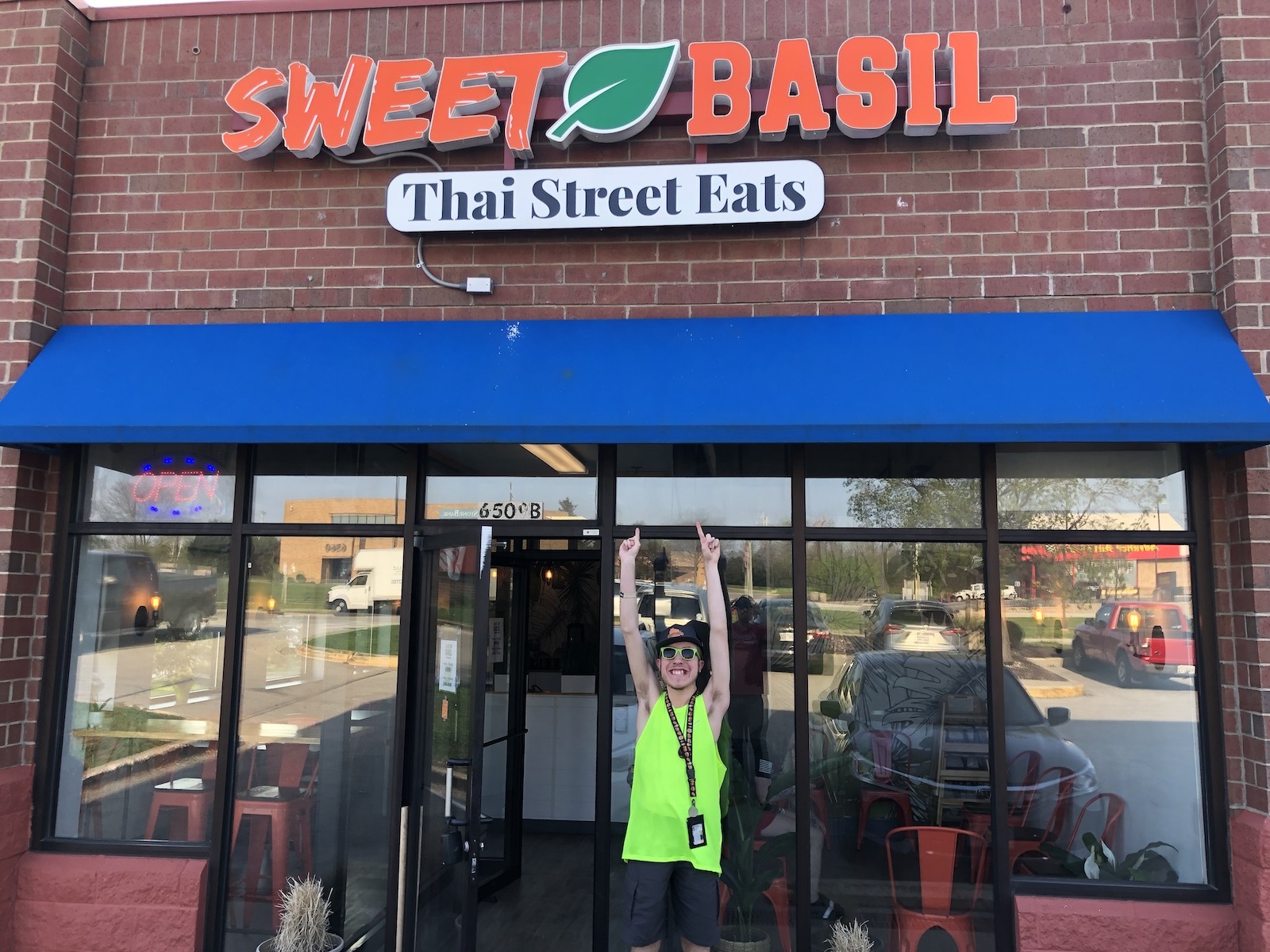 At OnMilwaukee, we believe in raising all voices and using our platform to support the dreams of others. And that's what we hope to do for Dominic the Food Reviewer. When I first met Dominic almost two years ago, I was impressed by his passion, curiosity and interest in improving his writing. Over time, I not only enjoyed getting to know him better, but he taught me as much as I taught him. I hope you not only enjoy reading Dominic's reviews, but also understanding and enjoying seeing the world of food through his eyes. — Lori Fredrich, Editor-in-Chief

This week I got to try a Thai and Lao restaurant called Sweet Basil at 6509 S. 27th St., Franklin. Sweet Basil opened in April 2020. They serve a mix of Lao, Thai and Asian cuisine.
I had the chance to meet the co-owner, Victoria Sithy and her husband Andrew.
Victoria's mother was such an inspiration for this idea. Her parents had several jobs while she was growing up, so her mother was unhappy and she said her dream was to open this kind of restaurant serving Thai and Asian food. The owners mentioned that the family originally opened a restaurant in Janesville and stayed there for five years. Victoria saved as much as she could to secure their restaurant space in Franklin.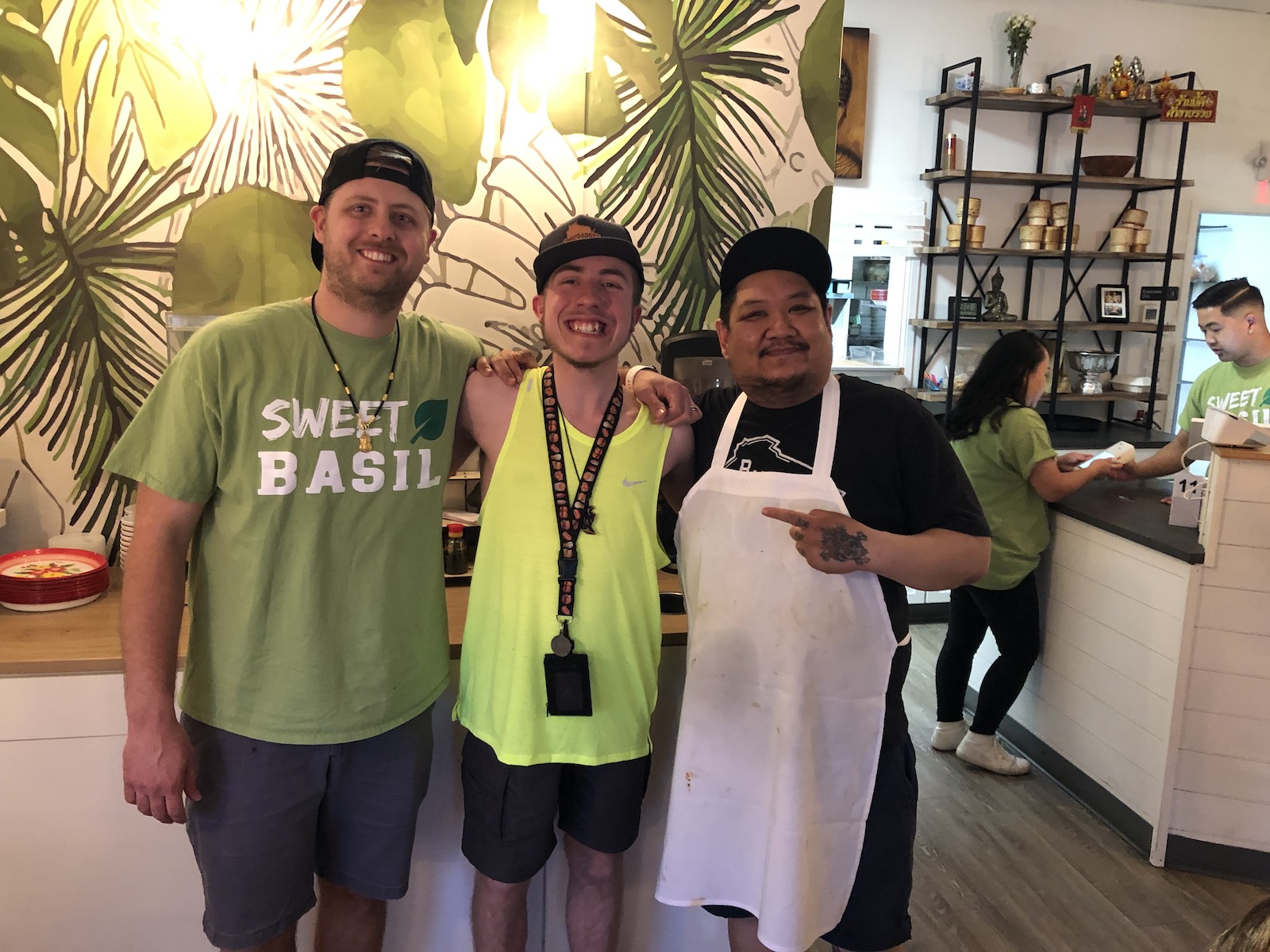 I had the chance to meet the rest of the family which included his mother and all the rest of the staff.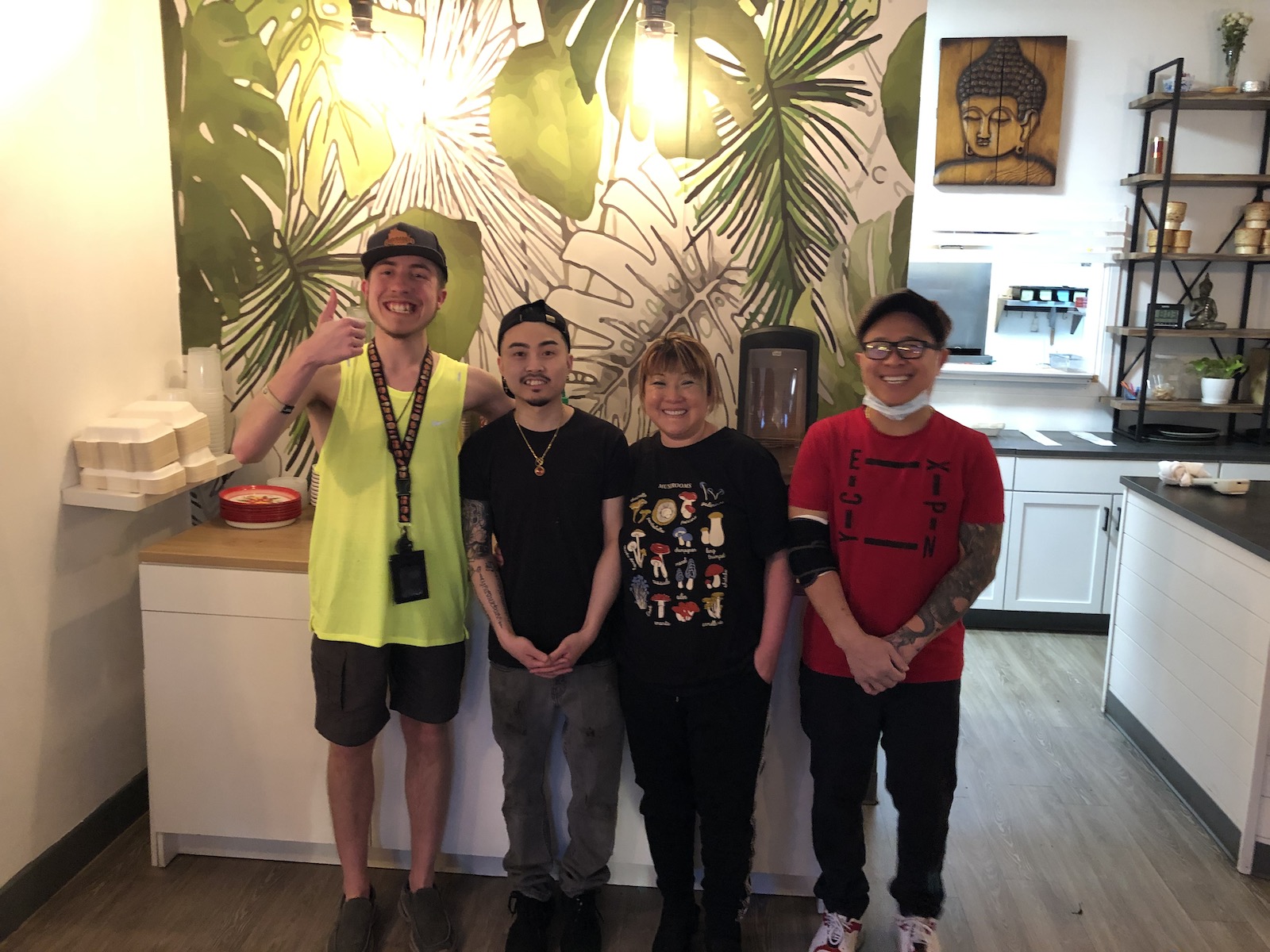 Victoria told me that before it became Sweet Basil the whole space was renovated. Sweet Basil's vibe is clean and bright, with a modern twist and lots of color. They have very high ceilings with murals on the walls and different types of plants which include very colorful dark green and light green leaves.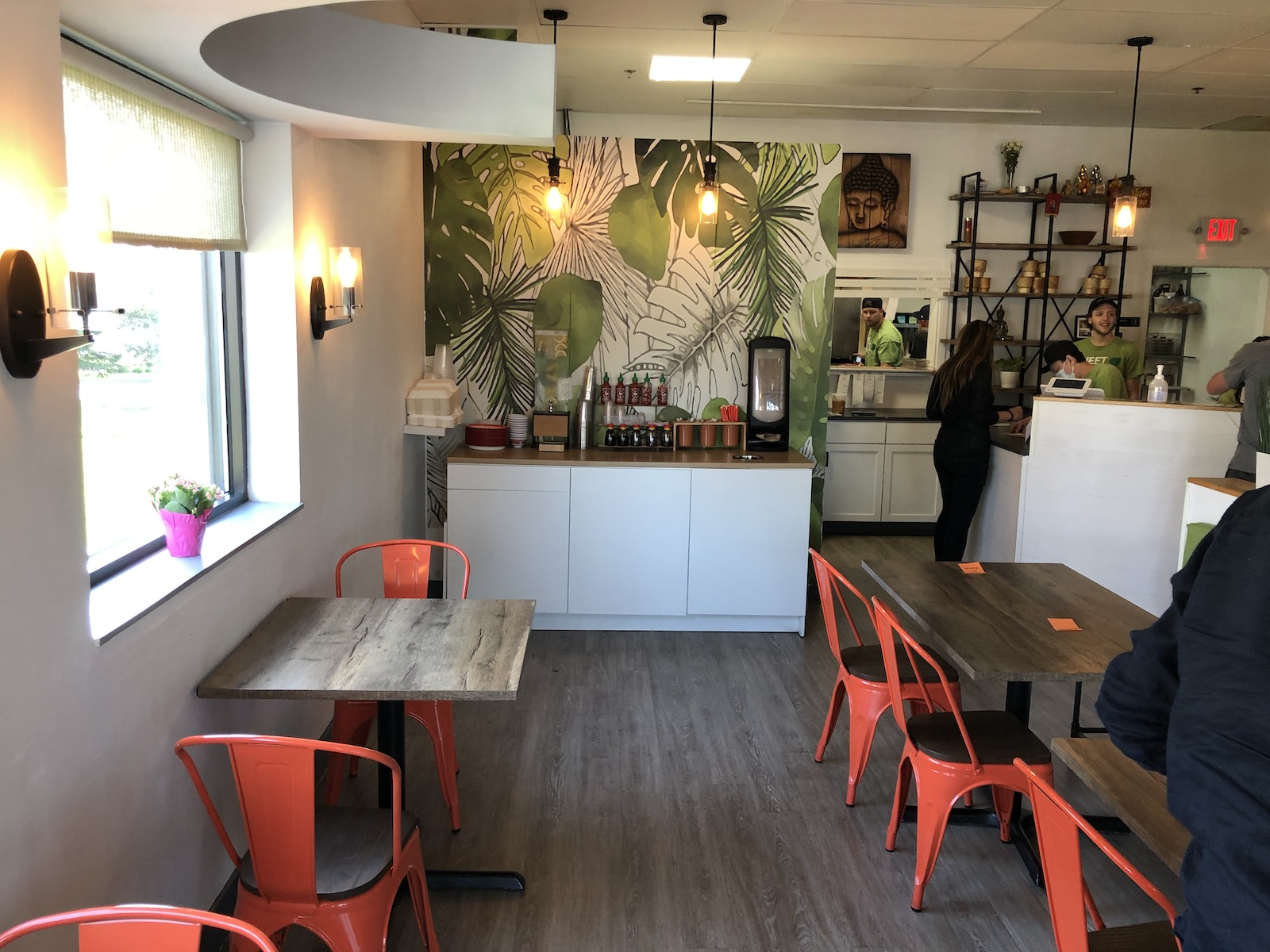 Victoria's mother, Vanna [Praseutsack], helps Sweet Basil in the kitchen. Her mother was incredibly generous and made us feel like family by letting us try many Thai and Lao inspired dishes. I learned that the name, Sweet Basil, is actually a reference to Thai basil. I thought that was super interesting. They use Thai basil in many of their recipes.
I tried jeow bong noodles which included ingredients such as stir-fried ramen noodles with jeow bong spicy chili sauce and mixed vegetables. I thought it was super nicely presented.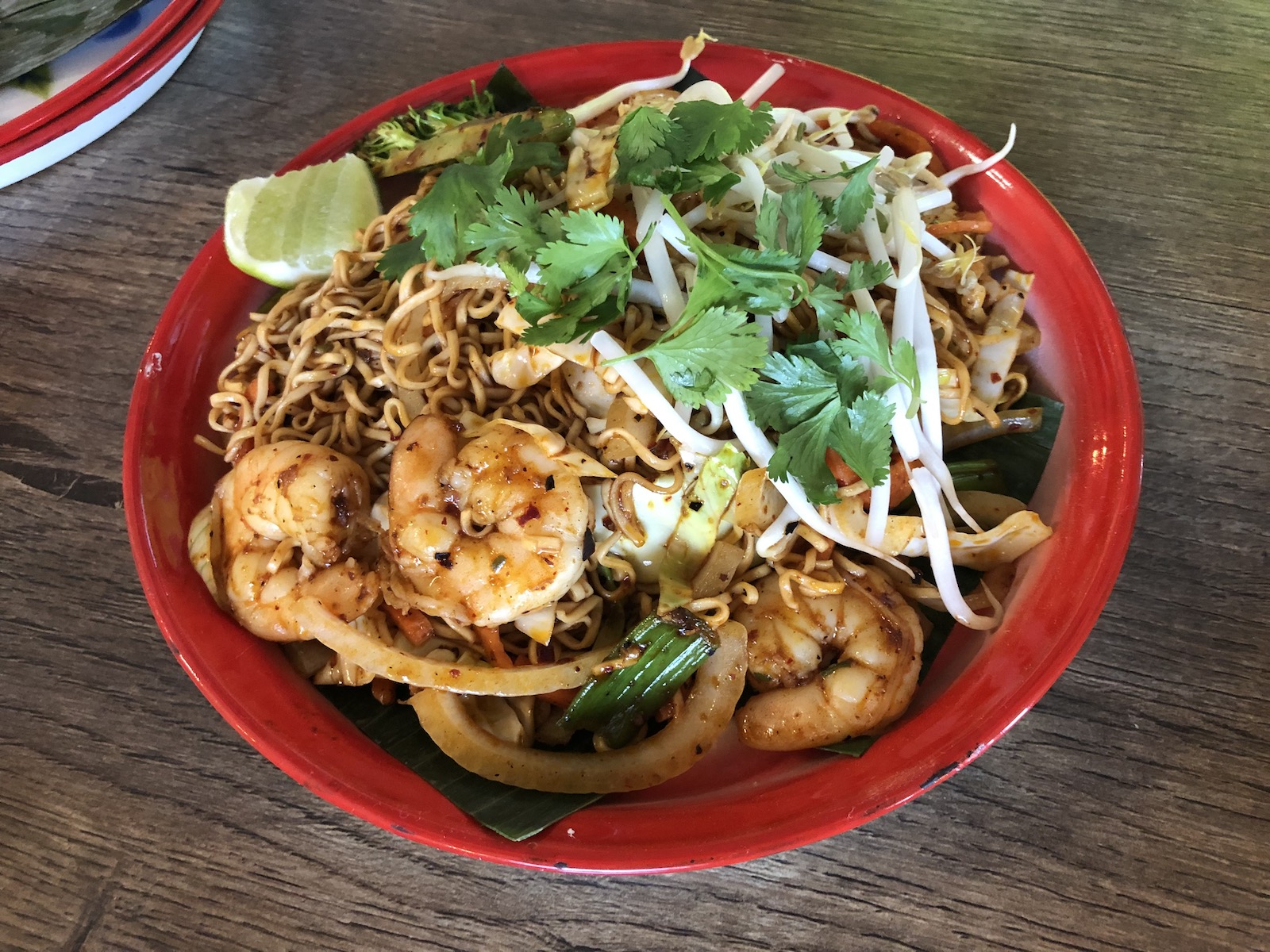 The Jeow bong noodles were super appetizing and just melted in my mouth. The jeow bong had a good kick and the right amount of spice in it. It wasn't too overwhelming for me. This spicy chili sauce mixed really well with the noodles and gave the whole dish a lot of character.
For my next dish I tried their panang curry which had very vibrant flavors and spices. What I absolutely loved were the rich flavors of the dish and a very tangy flavor, which I love.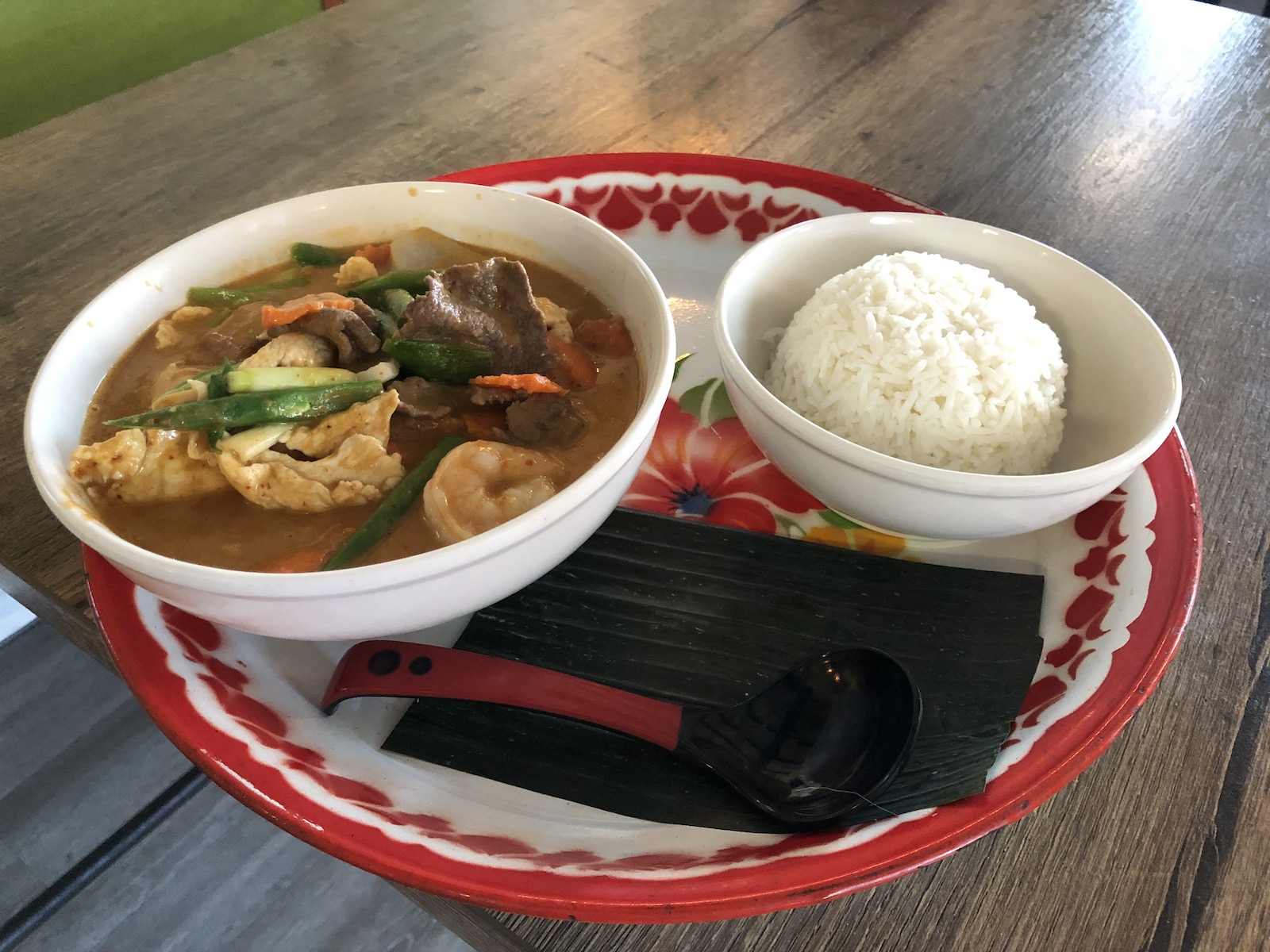 Then I tried the pad thai, which also had very tasty flavors and very thin noodles. What I enjoyed while eating this dish was that I poured chili paste sauce on it. This gave it a hearty, sweet flavor.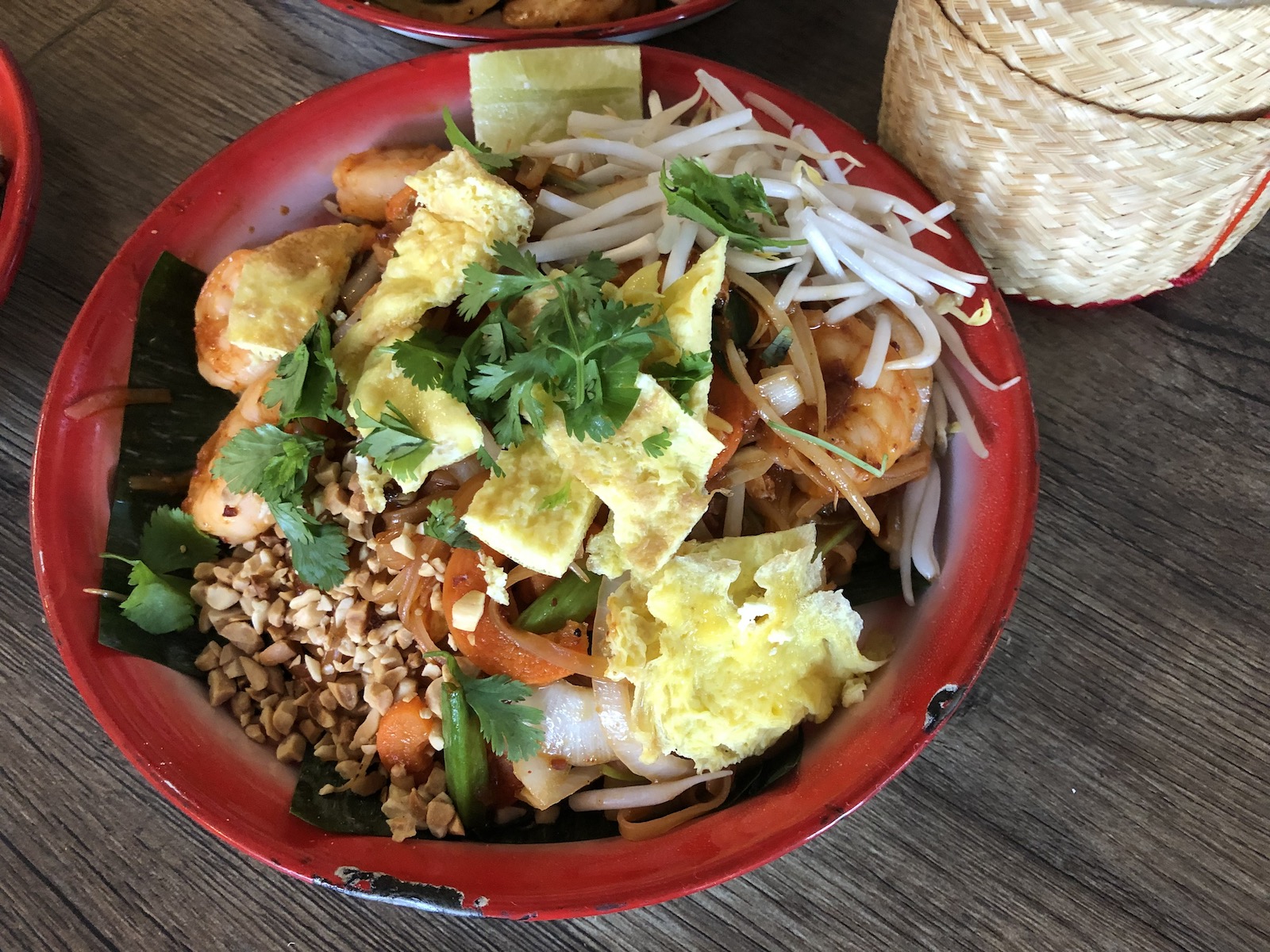 For my drink, I tried one of their popular Thai smoothies, the boba smoothie. As I took sips of my banana smoothie I could really taste the bananas in the drink and it was super refreshing on a hot sunny day.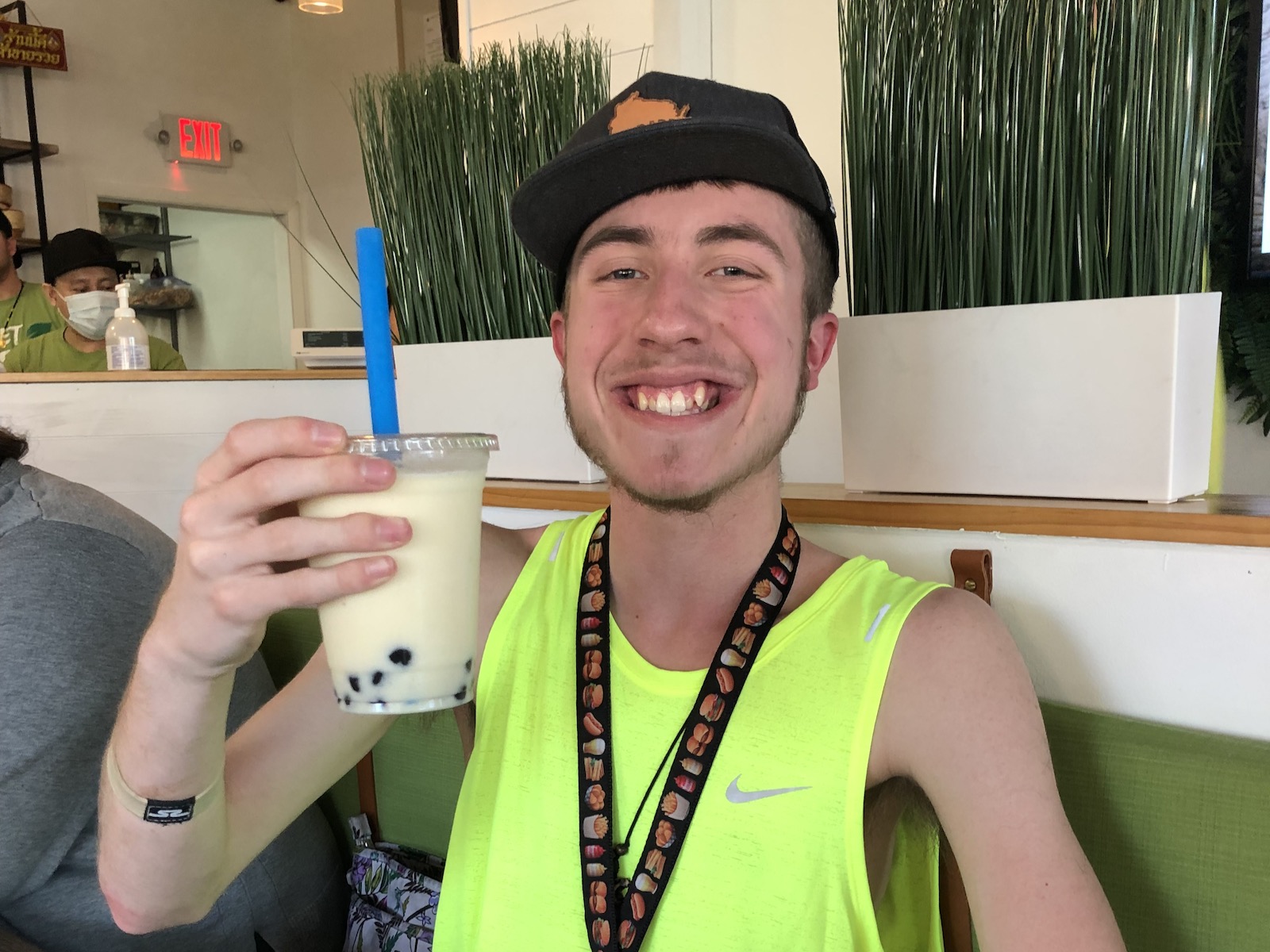 I even got to try their vegetarian spring rolls, stuffed with carrots and cabbage. The vegetarian spring rolls were thinly wrapped and tasted great hot. The cabbage had a slightly crunchy texture and the shredded carrots were very thin and sweet, which I absolutely appreciate.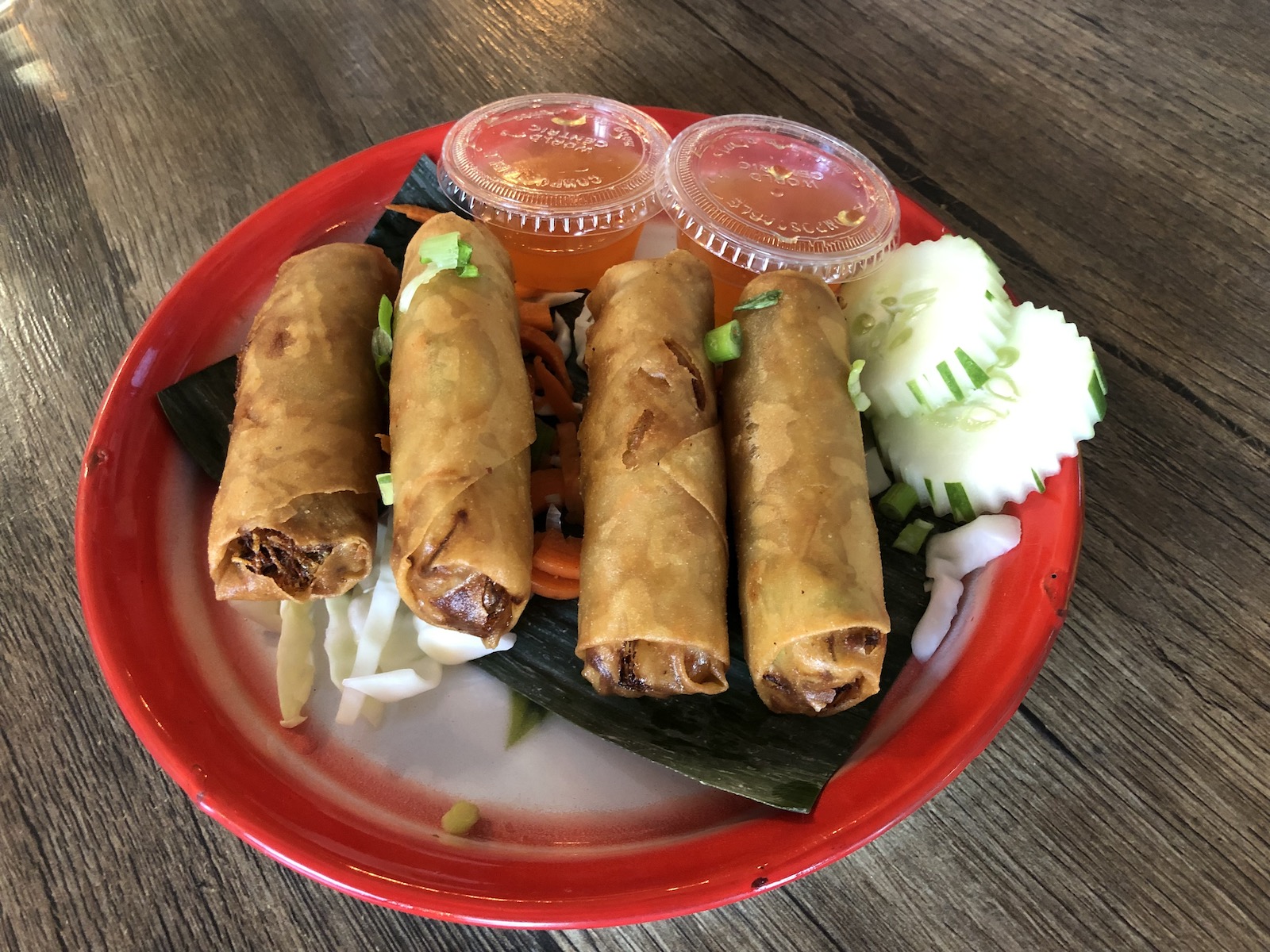 For my desserts, Vanna brought out some surprising desserts which were their strawberry spring rolls and their sweet mango sticky rice. The strawberry spring rolls had a good mix of sweetness and crispy texture.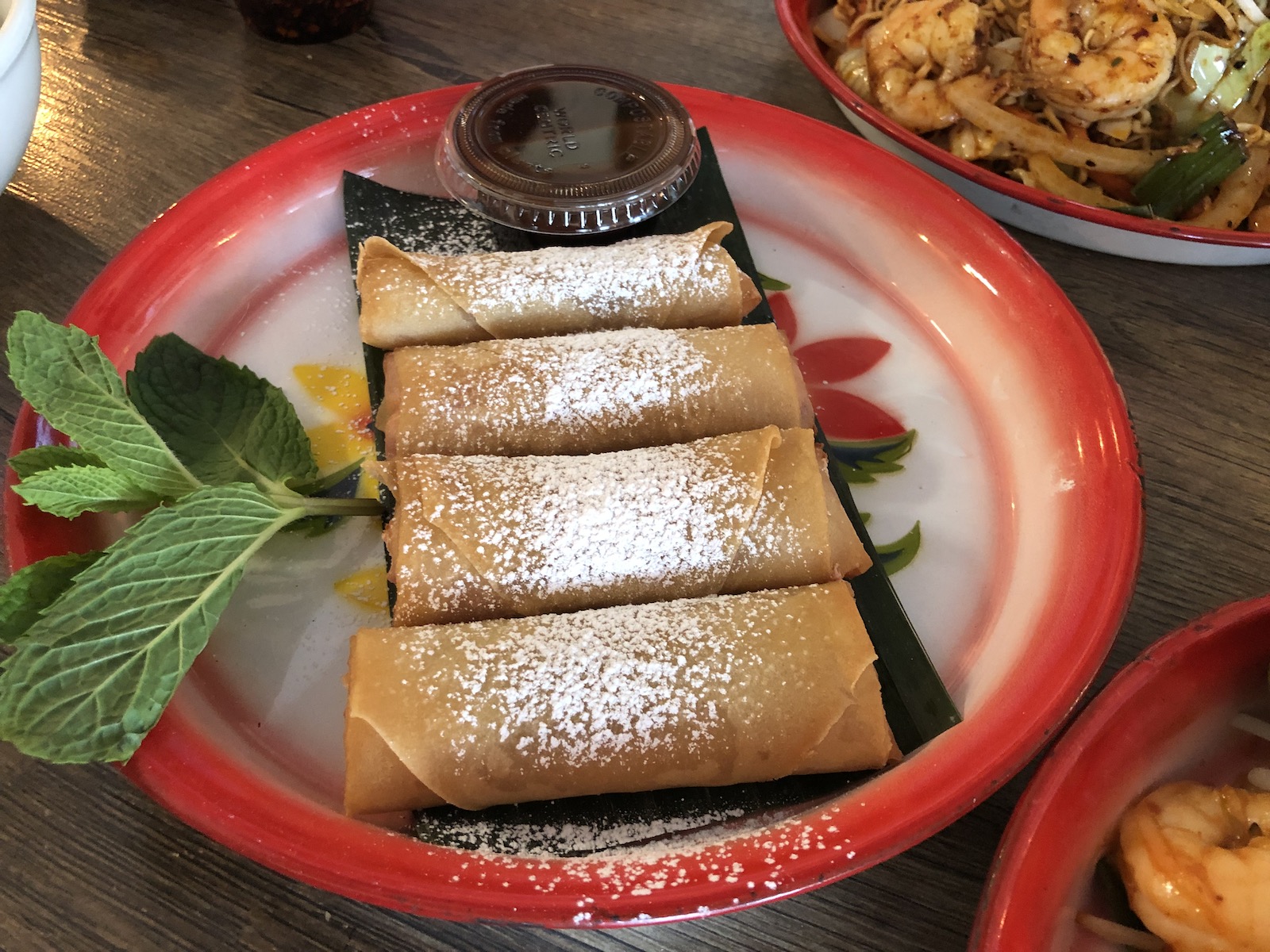 Their sweet mango sticky rice had a very tropical smooth texture and creamier flavor. It was super out of this world, and I couldn't help but eat it all. I was heaven. They were both delicious and the rice was tasty and well cooked.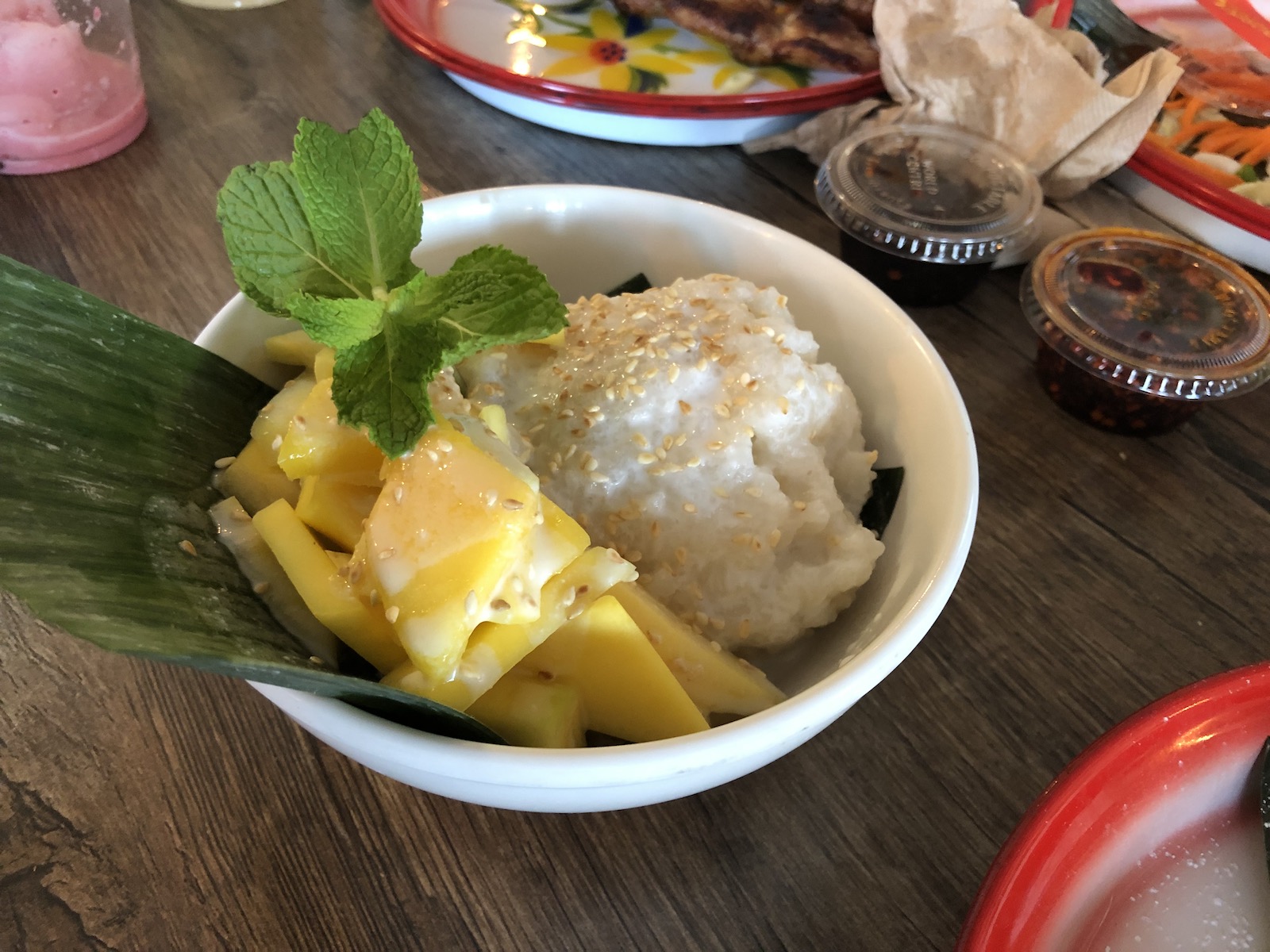 Victoria said all of their Thai and Lao dishes are all fresh and most are made from scratch. Their sweet and sour sauce is homemade.
I would highly suggest trying Sweet Basil as they have the best panang curry ever. The mango sticky rice dish was probably one of my favorite desserts I've had in a restaurant during my reviews. When you go there you have to try their mango sticky rice because they have so many natural flavors that made me feel like I was in the tropical region of Thailand.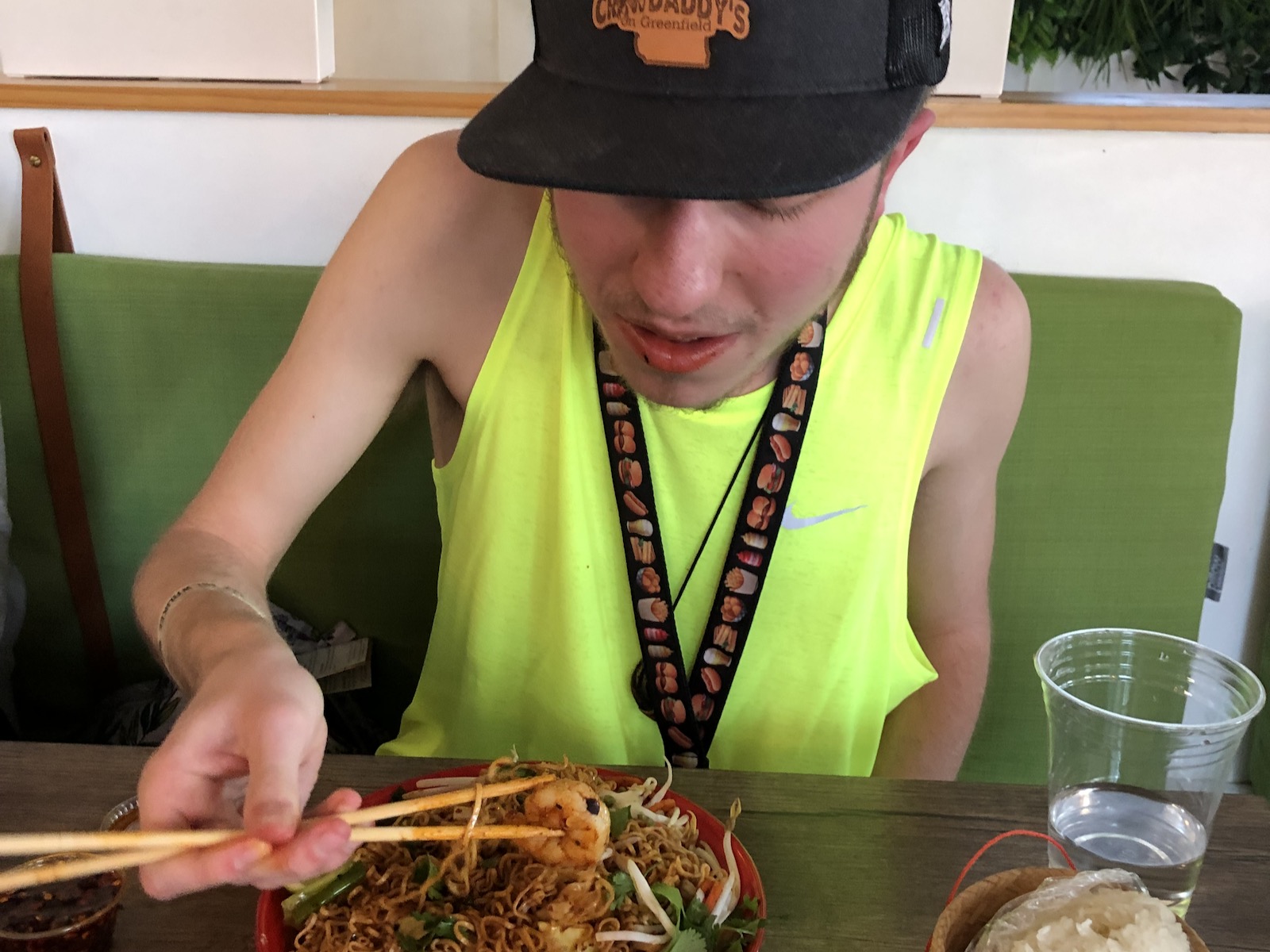 I promise you won't be disappointed at all with any of these dishes. I want to give a big thank you to all the staff with Vanna, Victoria and Andrew for taking care of us and making us feel welcome. They have so much positive energy and it was such an honor to spend time with them talking about Thailand. I want to go there one day while traveling to try some more Thai food and explore. If you are in Franklin or want to try this one day, you absolutely have to.