Greg Sherwood MW: Two of South Africa's best put to the test in a comparative tasting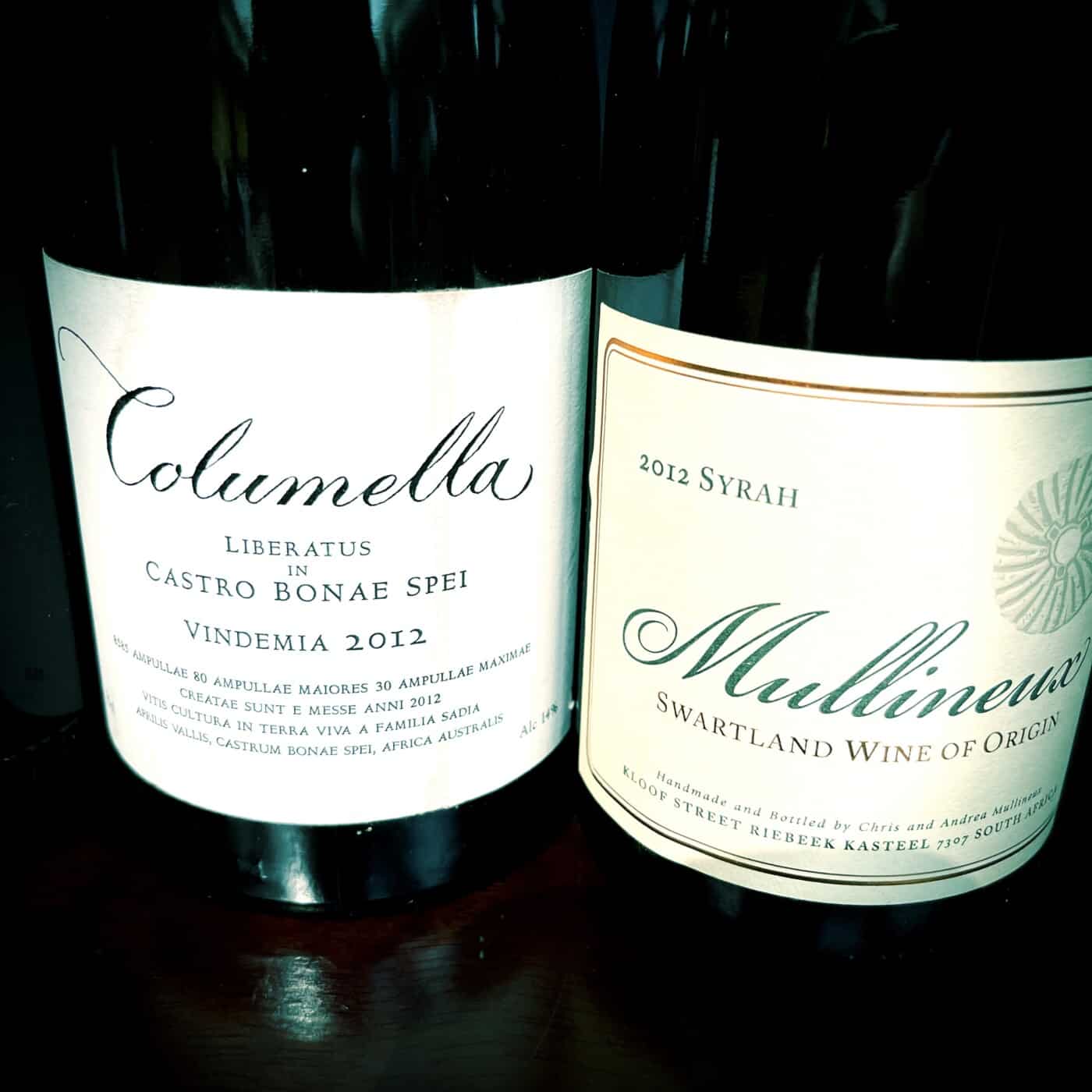 Everyone loves a comparative taste between international fine wine nations to see if a shake-up can be delivered. If the tasting can be done blind, the results can potentially be all the more spectacular. I recently presented a tasting for 31 guests at the private 67 Pall Mall fine wine club in London and presented five flights of fantastic international fine wines from Italy, California, South Africa and Australia. The wines were selected from the hosts' cellar and tasted on sight, presented in five paired flights to allow some degree of comparative stylistic appreciation.
I explained to the audience that as buyers of fine wines in the trade, we often have the opportunity to taste wines initially taken from the barrel or tank before bottling, and then again later when wines are bottled and "physical" in the fine wine market. But the most popular comparative tasting has to be the "10 Years After" format where wines with a bit of bottle age can really be put through their paces and initial release ratings and ratings reassessed. Did the critics get it right?
The comparative tasting I presented recently included 10 wines from the 2012 vintage, as follows:
Flight 1
Isole e Olena Cepparello 2012, Tuscany IGT, Italy, 14% Abv.
100% Sangiovese
Fontodi Flaccianello delle Pieve 2012, Colli Toscana Centrale IGT, Italy, 15% Abv.
100% Sangiovese
In an intriguing flight featuring two great pure Sangiovese wines that have always traditionally been outside the rules of Chianti Classico DOCG and now that they can be included, don't want to be. The Cepparello obtained a score of 93/100 from Robert Parker's Wine Advocate on its release and the Flaccianello 94/100 points. Both were elegant, taut, young and fresh with lots of licorice spice, elegance and fruit structure. Both a pleasure to drink now, preferably with Italian cuisine or red meat, but certainly in no rush if you have one of these beauties in your cellar. After tasting, the public then voted for their favorite of the flight and it was fascinating to see the Cepparello score 15 votes and the Flaccianello score 16 votes. A very split vote along the lines of Parker's original release notes.
Volume 2
Sadie Family Wines Columella 2012, WO Swartland, South Africa, 14% Abv.
76% Syrah, 17% Mourvèdre, 7% Grenache
Mullineux & Leeu Family Wines Syrah 2012, WO Swartland, South Africa, 13.5% Abv.
100% Syrah
Then came the two pillars of Swartland from two producers very close to my heart. At Eben Sadie's recent masterclass in London, he described the 2004 Columella as one of his favorite vintages. On the 2012 technical sheet, many comparisons were made with the fresher 2004, declaring 2012 another outstanding vintage. A small amount of the earthy stench of the bottle wore off fairly quickly to reveal a compact, sophisticated, Northern Syrah style wine, fresh and elegant fruity with silky tannins and a lovely savory, fruity bramble finish. The Mullineux "estate" Syrah, from a blend of seven plots, four in the Kasteelberg, two in the Paardeberg and one in the Malmesbury region, was youthful and exotically flavored with a feel of polished perfection, balance and Fabulous intensity and lovely depth and complexity. Also very well in the mold of a top of the north coast of the Rhône or a St Joseph. The public vote seemed to prefer the extra soft maturity of the Columelle at the moment and it won the vote 18 to 13. But both were very popular styles with the public impressing with their inherent quality.
Flight 3
Fattoria Le Pupille Saffredi 2012, Maremma IGT, Italy, 14.5% Abv.
60% Cabernet Sauvignon, 30% Merlot, 10% Petit Verdot
Dominus, Dominus 2012, Napa Valley AVA, USA, 14.5% Abv.
93% Cabernet Sauvignon, 5% Petit Verdot, 2% Cabernet Franc
Next, vol 3 and two classic Bordeaux-style blends, one from Tuscan coastal Maremma and the other from California's Napa Valley. Saffredi was given a perfect score of 100/100 by James Suckling when he tasted it in 2015 and although that might be a bit on the high side, the wine was certainly one of the most outstanding true wines of the entire tasting at My opinion. Dense and compact with harmonious weightless structure and balance, juicy pure fruit of black cherry and cassis and lots of freshness. What not to like. The Dominus, at the time of its release, got a whopping 99/100 from Robert Parker and was also proclaimed by Christian Moueix as its best vintage since the first 1983, or at least until the 2013 arrives. This vintage pair is still often compared to Dominus' iconic 1991 and 1994 duo, but despite the depth and power of 2012, the wine still felt like it had a lot in store and deserved further aging in the cellar to show at its best. Nonetheless, a crisp pair that the flashiest and alluring Saffredi won 19-12 with the consumer vote.
Flight 4
Henschke Mount Edelstone Shiraz 2012, Eden Valley, Australia, 14.5% vol.
100% Shiraz
Grant Burge Meshach Shiraz 2012, Barossa Valley, Australia, 14.5% vol.
100% Shiraz
Next, the first of two fascinating Australian flights from a very high quality vintage in the country. No off-vintage shenanigans on display here! The Mount Edelstone was pure and polished, more feminine and elegant in structure, showing lovely pure red and black fruit, a sweet savory touch and fine, seductive tannins on the finish. Very classy indeed. The Grant Burge Meshach, owned by Accolade Wines since 2015, was rich and bold and unashamedly muscular and ripe with layers of sweet liquor of dark berries and kirsch cherries, sweet oak but also a lovely backbone acidity that maintained the flavor. whole construction in balance. Bold Barossa at its best. I see it only scored 94+/100 from the Wine Advocate upon release, but it seemed to have plenty of gas in the tank and tricks up its sleeve for future drinking pleasure. Certainly an undeniable consumer favorite with 18 votes to 13 on the more classically restrained Henschke.
Flight 5
Penfolds Bin 389 Cabernet Shiraz 2012, South Australia, 14.5% vol.
54% Cabernet Sauvignon, 46% Shiraz from Wrattonbully, Barossa, Mclaren Vale, Langhorne Creek and Robe
Yalumba The Caley 2012, South Australia, 14% Abv.
52% Cabernet Sauvignon, 27% Cabernet Sauvignon Barossa, 21% Shiraz Barossa
Last but not least, the showdown between two big guns from Penfolds and Yalumba. Both super high-end, Bin 389 is often described as the "Baby Grange" due to its aging in used Penfolds Grange barrels from the previous vintage. Both wines represent wonderful expressions of the classic Aussie Cabernet/Shiraz blend, where there always seems to be such synergy and harmony when this blend is crafted underneath. For a wine that only scored 91/100 from the Wine Advocate upon release, it was certainly showing its pedigree now with showy depth of fruit, wonderful weight and texture on the palate, and real complexity and intensity on the finish. A truly delicious wine from a cooler year. The Caley was the first 96+/100 point outing of this premium cuvée from the Yalumba stable and showed incredible finesse and balance, restrained Cabernet depth and just a faint hint of spicy, rumy, meaty complexity. from Shiraz. Built for the long haul, the was visibly understated but no less charming and alluring. One for later aging in the cellar for sure! In the consumer vote, the more avant-garde elegance and showy generosity of Penfolds Bin 389 was hard to dispute and it won a 21-10 victory. Two deliciously tantalizing wines that remind you that the best of Australia is definitely worth buying and cellaring.
The final act for me as presenter was to ask the 31 tasters to re-taste all of their glasses in quick succession and choose only one wine as their favorite from the 10 wines. From the first flights, there was always the feeling that certain wines were going to perform well. But for me, as an endless champion of fine South African wines, the end results were very, very pleasing indeed. This was a very impressive collection of wines from top producers who were all showing up incredibly well after 10 years, making the preferences of the end consumer all the more relevant. Congratulations to the South African team. If we can't win at rugby, football or cricket, at least our winemakers will be able to preserve South Africa's honor abroad!
Final results for the consumer:
1st Venue – Penfolds Bin 389 Cabernet Shiraz 2012 and Fattoria Le Pupille Saffredi 2012 (tie vote)
2n/a Location – Sadie Family Wines Columelle 2012
3rd Place – Mullineux Syrah 2012 and Dominus Napa Valley 2012 (tie vote)
Greg Sherwood was born in Pretoria, South Africa, and as the son of a career diplomat, spent his first 21 years traveling the world with his parents. With a degree in business administration and marketing from Webster University, St. Louis, Missouri, USA, Sherwood began his professional career as a commodity trader. In 2000 he decided to take a lifelong interest in wine by taking up a position with Handford Wines in South Kensington, London, working his way up to Senior Wine Buyer. He became Master of Wine in 2007.