Heinz Dip & Crunch sauce was inspired by TikTok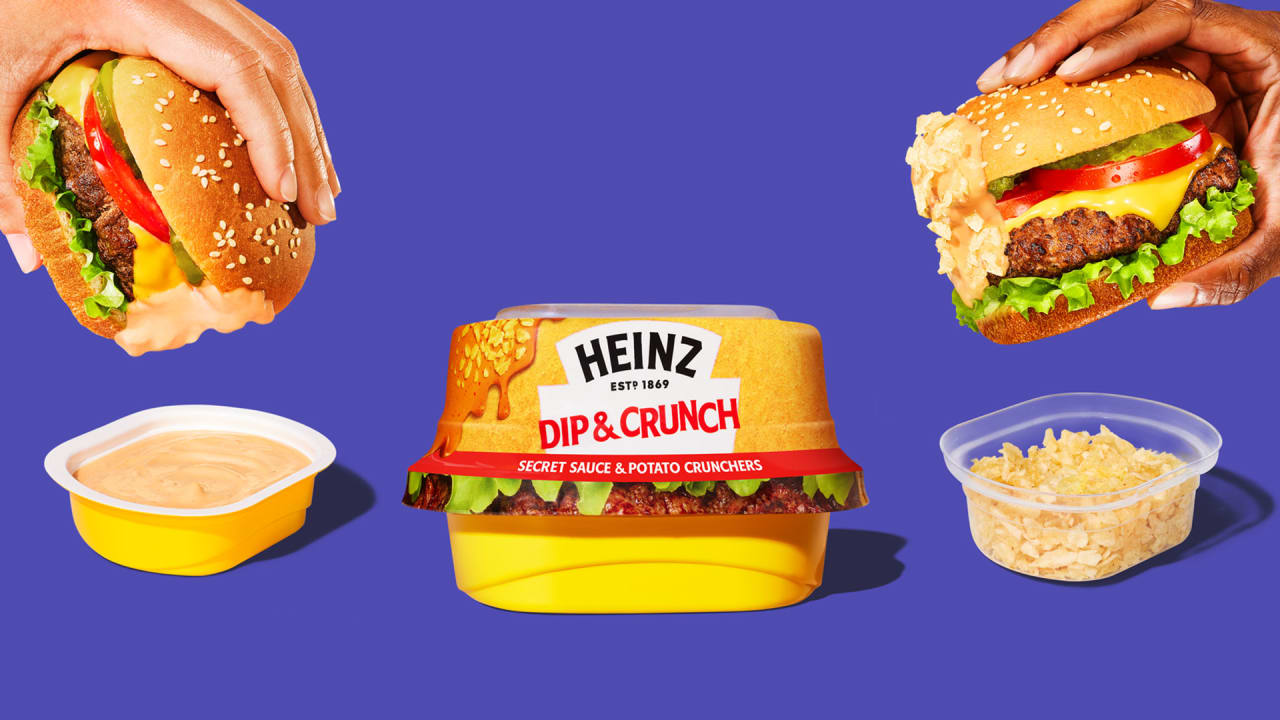 Over the past few years, food giant Heinz has tapped into the condiment fandom base to develop new products for the masses. In 2018, he conducted an online survey asking American consumers if they would like a premixed version of mayonnaise and ketchup. After the response was overwhelmingly favorable, Heinz Mayochup Sauce was born. Since then, the brand has added Kranch, Honeyracha and Buffaranch sauces to grocery store shelves.
Now, Heinz is introducing a brand new product, Dip & Crunch, this one based on the trend of dipping burgers in various combinations of sauce and fries popularized among TikTok users. It is a two-in-one package, with one side for sauce, the other for dipping chip crumbs. Chip crumbs (which Heinz calls "crunchers") add a tasty new texture to your burger. The combo is also available in a spicy option.
Hamburger dipping isn't new, of course, but it may never have been made official like this before. The company tested the concept earlier this year at select West Coast Jack in the Box locations, and has now moved to take it nationwide and to your homes just in time for barbecue season. For Kraft Heinz North America Director of Growth, Sanjiv Gajiwala, this represents a major step forward in the brand's progression to innovate in a way that not only responds to culture but also anticipates it.
"We spent a lot of time listening," says Gajiwala. "For us, hearing this debate online and then bringing it to life is an example of how we listen differently, how consumer tastes are changing, and how that listening helps us respond. . . [to be] ready for when people are ready to experience these things.
It's also a direct evolution of the approach that led to Mayochup and its other hybrid sauces, which have seen sales increase by 9% since 2020. Last year, Kraft Heinz announced a partnership with Google use artificial intelligence and machine learning tools to quickly gain real-time insights from data to more effectively drive food innovations such as new flavors, formulations and products.
"We then took that and built our own proprietary food-focused data platform, which we call Kraft-O-Matic," says Gajiwala.
The company aims to use this timely information – and its own ability to move quickly in product development and distribution – for a two-tiered approach when it comes to tapping into consumer trends and culture. The first is for short-term modes that can temporarily boost superfan enthusiasm and perhaps cash in on some earned media. This is clear in the way he jumped into the food news cycle with things like Kraft Pumpkin Flavored Mac and Cheese, or his macaroni and cheese ice cream last year, or Oscar Mayer's brief banter in the field of beauty with his Bologna mask in January.
The second gear involves longer-term trends that lead to new products being widely available through the company's extensive distribution network.
"When innovating, we need to make sure we understand the difference between a trend and a fad," says Gajiwala. "There are times for both, and for us, innovation around Dip & Crunch is part of a trend. It's something that people will want for a while, so we want to innovate with our brands like Heinz in those spaces.