Interview with Deb Never Where Have All The Flowers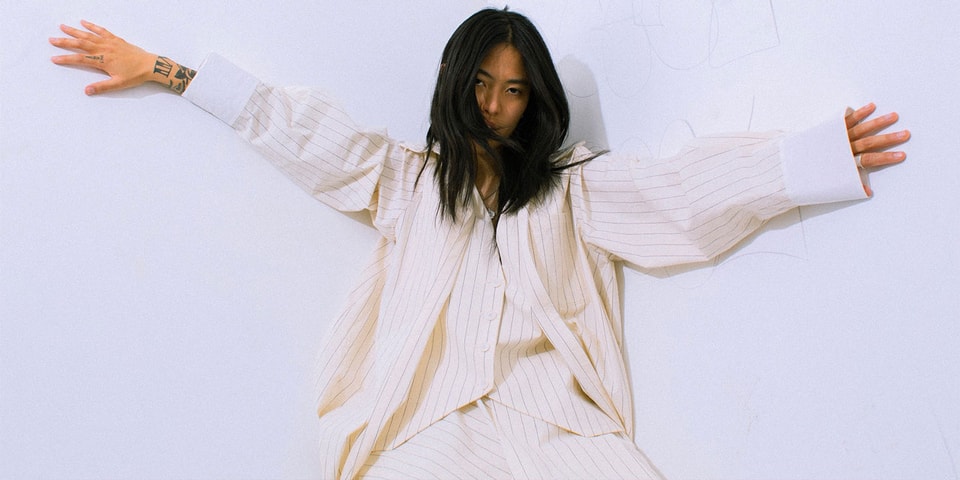 Deb Never is in London and her faded teal hair is still going strong. For the reclusive Asian-American musician in her twenties, who watches her lyrics carefully so as not to say too much about her personal life, the energy of Never seems rather inviting today. "I'm so excited to replay shows and it's funny because the only thing I ever wanted to do was really play shows," she said eagerly during a Zoom call in late November. "Because I would be so nervous and now it's the thing I'm looking forward to the most. I think everyone has that pent up energy and having a real life experience with people again would be fine. You can't recreate that feeling of shows and now that's what I miss the most.
Raised largely, and still living, between Spokane and Seattle, Washington, Never was mostly kept from growing up in the isolated Pacific Northwest, with humble beginnings as the child of an immigrant nursing mother and a a Presbyterian missionary father. Fast forward a few years, and she would turn this self-discovery into a slippery, slippery space in the LA rhythm scene, cooking first as a session guitarist, then as a staple of the WEDIDIT collective, with members DJ D33J and Shlohmo. Eventually being pressured enough by his friends to post songs on Soundcloud, some of which would eventually become the tracks for his 2019 EP, house on wheels, a project that experimented with the infusion of alt-pop, hip-hop and R&B. It was exactly what the doctor prescribed for Gen Z do-it-yourselfers and internet dreamers, but more importantly, it came from a source that was vastly underrepresented among industry newbies, in the form of a queer, AAPI, queen of grunge, Deb Never.
Since then, things have moved quickly, as she has collaborated with the likes of BROCKHAMPTON, Euphoria star Dominic Fike, producer Kenny Beats with their Steve Austin tribute directed by Augustin Vita "Stone Cold" and a chilling visual for Ungroup, paired with a Matthew Williams Givenchy outfit. In September, she released her brand new EP titled, Where have all the flowers gone featuring production from Jam City, Jim-E Stack, Michael Percy, Luke Wild and more. "This EP was mostly about growth – it was about exploring more sounds and just the whole body of what can be done. It's the melancholy of beauty, finding something in the most mundane things "Never says of the project's themes. "The overall vibe feels like it's not giving in to depression and kind of subverts the perspective that there's beauty in darkness."
I've never spoken to HYPEBEAST about what she's been listening to lately, how living in London has reinspired her project direction, collaborating with producers and her latest EP, Where have all the flowers gone.
What have you achieved recently?
Lately I've been running around New York and now London, doing sessions, playing gigs, celebrating the EP release. It's been busy but I can't even remember my days, I can't even tell you precisely what I did [laughs], just generally busy. Constantly on the move but I don't even know why. Just traveling around most of the time.
Did you listen to something specific or do you come back to something?
I randomly revisited Lil Uzi Vert's, love is the rage 2. It was on a loop for me.
I'm just asking because I think the way we consume music has changed over the past few years. What we listen to, what has replay value and what sticks, etc. all of this.
I will say it's interesting because I feel like a lot of people are coming back and listening to old music, maybe it's a comforting thing, a lot of nostalgia too. I thought it was just me like, oh maybe I'm just not inspired by anything that's coming out right now, and not in a shady way. I feel like I don't have as much time to go out and discover new music. I'm always listening to new artists but I don't have as much time to sit with them and relate or sit in my room so I find myself going back to nostalgic music, stuff that gives you a feeling. Almost like a memory, it takes you back and it's just a comfort thing.
Things felt out of place, so any familiarity or whatever makes us feel goodwe leaned into… You see it with nostalgia-based brands and collaborations, and even artists with samples.
Yeah, there's even old stuff that I listen to now and it's almost like I'm listening to it with a new ear. It always feels fresh, even though I associate it with a certain period of my life.
Going into the EP you just released, Where have all the flowers goneI'm curious about the creative process and the differences from when you created house on wheels?
house on wheels was the first thing i ever really did, so it was a lot of me experimenting and still finding my place, where i feel this EP [Where Have All The Flowers Gone] is more growth. And even going into it, there was more of a feeling that I could deliver more and I could play with more musicality, so there was that kind of approach. It all happened during lockdown. I swear for this EP there were three different tracklists, three completely different projects, basically. 'Cause I had an EP made before Covid happened and then the lockdown happened and I'm like, there's no way I'm putting out music right now in the middle of an apocalypse world. Like 'hey, it's me, the new EP guys'.
So I was like scratching that, I'll take the time to sit down with it and see if I really like it. During the lockdown I had also done kind of a bedroom project and then I had a new perspective like okay I'm really gonna dig into the fact that I play guitar and show it more. So when I came back to London I was very inspired. I had started working with my friend and producer, Michael Percy, because he was stuck in London at the time and I had wanted to work with him but he couldn't come to the States, so I'm like if you can't come here then i will come and kick you out, and somehow the uk lets me in and i end up being stuck there for four months. But that shaped a lot of the sound of this EP because I was able to soak up the new surroundings and just what I was hearing new things, new sounds. People listen to a lot of different things in different countries here too, so it all played into my inspiration for the project.
These "sounds" that you mention, how does it differ from being there, as opposed to LA, Seattle or New York?
It's like a grain of sand and it's also not in a bad way because there's a part of that, which I love too, but something about making music in LA, you can just hear it's nice when you did. You know what I mean? Like it just had a brighter tone for some reason. To look at house on wheelsmost of the songs sound like it's [made there]. It's not even a conscious thing and I feel like this environmental change changes your mindset and your mood and that translates into the shit you do. There are also these almost cathartic moments, even in "Stupid", where this bridge widens and opens, or in "Someone else", there is a kind of relief. There's this constant battle that goes on on the project between feeling really closed off and feeling free.
On this advice, watch a song like "Sweet and Spicy" with Jim-E Stack there's this expansive element that you're talking about where there's a lot more sound going on, but he still has this writing that feels very you. How was this disc born?
This record happened in a session of about three hours. I had already known Jim-E [Stack] because we had worked on things in the past, so we walked in and he said, "what should we do?" I'm like, "I don't know if we can just understand [as we go]", and we ended up doing this guitar synth. He looked at me and said, "Before I add anything, I'm going to record the session, what should I record it as?" and I had this lollipop, the Mexican candy with the spice and it was called "Sweet & Spice" And by the way, I literally never was able to track down that candy, but yeah, anyway, we have it named that and it inspired this song. It just happened. That's the thing, it's little, but I love those moments because it's really like magic. You pull flowers out of a hats off when you do something like that on the spot and it's so special.
Do you find that you like working with someone else more or do you prefer to record alone?
Before, I liked working alone more, but I think it was more a matter of trust. I feel like now I enjoy working with someone because I see making music as a conversation now where you bounce off each other and it triggers something and you go with the feels like you almost just had a good conversation. It's the same with music, I feel like 'fuck we did something sick'.
You know when you've just had a good conversation.
Yes exactly! It's like that. It's very refreshing to work with someone, you could have met and at the end you feel like you have common ground and you just birthed something in that moment.
How did you meet Kenny Beats and how was the song "Stone Cold" born?
I don't remember exactly how we met, but it was through mutual friends. It was Halloween night and I was a bit disappointed because Halloween is my favorite holiday and I really wanted to dress up, but he said let's work! so I'm like okay, let's do the session. I started playing guitar and as a complete joke, just saying some bullshit, I say "Stone Cold, Steve Austin" and he goes, "Yo, we gotta spin this!" and I'm like, "I'm literally saying 'Stone Cold, Steven Austin,' like you mean?" And he just says, "No, it's sick, it's sick, go on." We started building around that pretty much and Kenny is the type of producer where it's like you don't leave the room until you're done. And at that moment, I was like, "I just want to celebrate, why are you forcing me to do this?" [laughs] but I'm so glad he did because that's how he got to where he is. It was really fun to do.
How do you feel in the future? Are you optimistic, maybe pessimistic, what's the mood?
Imagine if I was pessimistic. Imagine, I'm just like, 'I quit right after that [interview]. I am no longer Deb Never [laughs].' No man, I can't wait! I'm all here for the ups and downs. I'm ready to have it all thrown at me at this point. I'm excited to make more music and keep doing my thing. I love what I do, so I think whatever happens, happens. I am happy Where have all the flowers gone is outside. I have in mind what I want to do next, so hopefully it will be fun in the next two years.