Middle Eastern Diner Kepos Street Kitchen Takes Over North Bondi Fish for Winter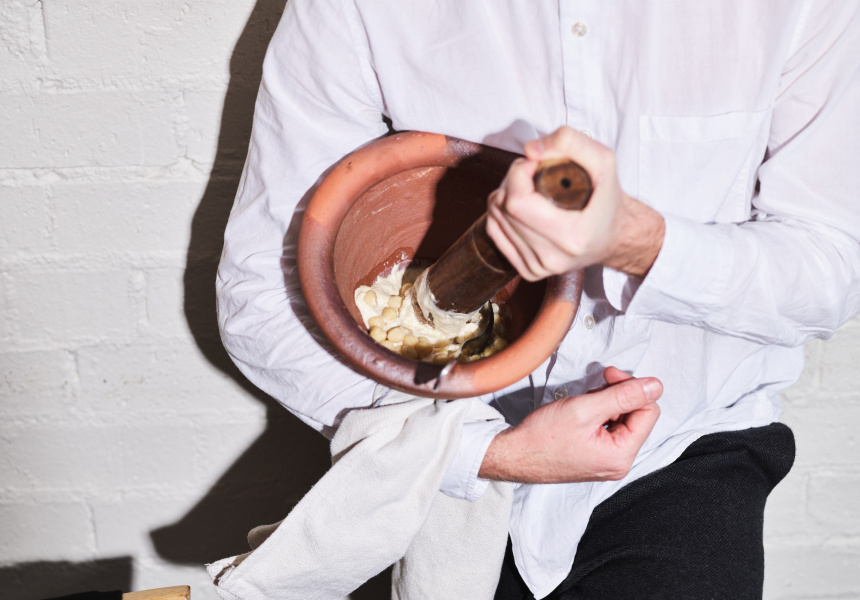 It might not be beach time, but a collaboration between two Sydney diners gives us an excuse to hit the shores of Bondi this winter. From June 30, Redfern's much-loved restaurant, Kepos Street Kitchen, takes over Matt Moran's North Bondi Fish to launch North Bondi Kepos, a celebration of Middle Eastern cuisine and culture.
The residence will be run by Moran (also Aria, Chiswick) and owner-chef of Kepos Street Kitchen, Michael Rantissi. They will arrange everything from food and cocktails to live music and DJs.
The North Bondi Kepos lunch and dinner menu will be divided into five parts: meze, raw, grilled, mains and sides, plus a dessert menu. Fans of hummus at Kepos & Co (the sister restaurant of Kepos Street Kitchen, which closed earlier this year), which was pounded table-side in a mortar and pestle, will be delighted to hear that a similar dish will return to the pop-up. You can also expect dishes such as crispy harissa prawns; trevally ceviche; swordfish skewers with homemade barbecue sauce; a slow-roasted shoulder of lamb in a coriander crust; and fried cauliflower with dukkah, tahini and chili. For dessert, a stretchy knafeh and milk chocolate mousse with halva.
Theatrical cocktails created by General Manager Shay Cullen will round out the menu. The Figorita is a twist on North Bondi Fish's most popular cocktail, the Margarita, here made with mashed figs and homemade grenadine and served in a ceramic teapot. The Bergabomb riffs on a Jagerbomb, and involves a fiery hit of arak dropped into a glass of beer, while the Spice Honey Americano comes in a jug and (as the name suggests) is loaded with honey and warming spices. .
The residence will also make the most of North Bondi Fish's prime real estate across from Bondi Beach – it will be open for breakfast and brunch every weekend. Feast on shakshuka and crumpets (by Crumpets by Merna) with Pepe Saya butter, tahini and date molasses, plus mimosas, Bellinis and Bloody Marys with Middle Eastern tweaks.
North Bondi Fish's bright blue and white dining room will be given a makeover, with a color palette of muted reds, yellows and blues, with artwork hung around the room featuring Rantissi's family.
It's not the first time North Bondi Fish has changed things up for the cold months – it became an izakaya for a week in June last year, before Sydney was plunged into a months-long lockdown.
North Bondi Fish will be on sale until June 26 and North Bondi Kepos will open on June 30. It will open for lunch and dinner from Wednesday to Saturday, and for breakfast from 8 a.m. on Saturdays and Sundays.