Route to Bordeaux via 'thoran beans' and 'butter chicken' | India News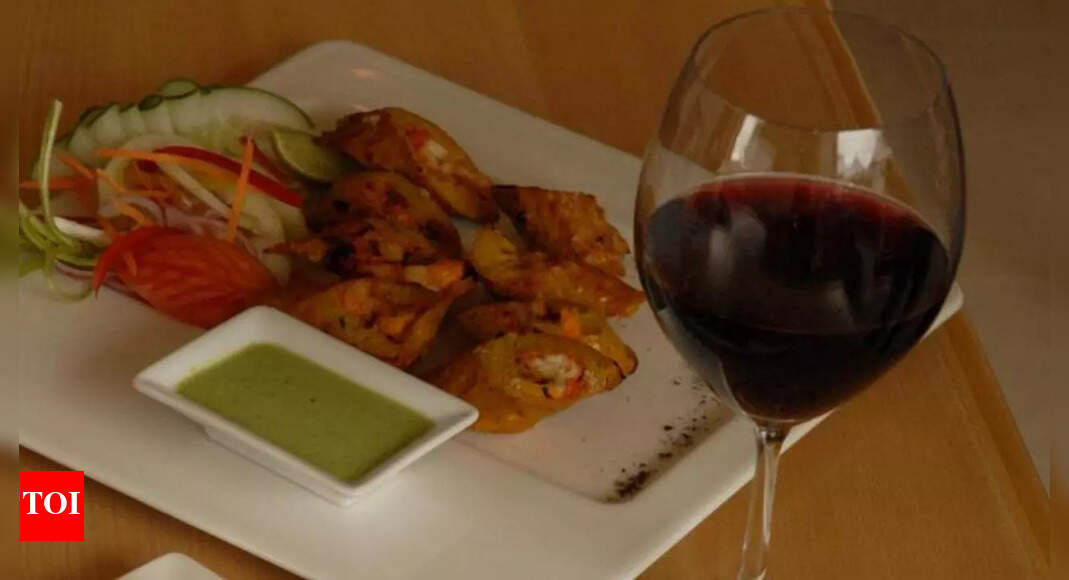 Who says pattice ragdaMalvani kheema cutlets and pav bhaji, do not lend themselves to a glass of finely married wine? Ask French food writer Laurent Moujon and he'll tell you how much you can really focus on a wine that will stand up to all the Indian flavors from the street to the main street. "Wine has one main purpose: simply to enhance the dish. Do not disturb, do not rush, do not dominate and do not walk alone. Just walk with the food," he says.
It was six years ago, during a reception for Indian students in oenology (study of wines) at the Institute of Commercial Promotion of Bordeaux – one of the oldest wine-growing regions in the world in south-west France – which made Moujon think when he was repeatedly asked about Indian cuisine and its pairing with Bordeaux wines, generally known for share the table with steaks, roasts and cheese plates.
After writing two books that saw Bordeaux wines associated with the cuisines of China and Japan, the latest to support Moujon's inventive culinary project is a one-of-a-kind cookbook where Indian cuisine in all its forms dhania-jeera-ghee-haldi glory has found its rightful place alongside the red, white and sparkling blends of Bordeaux.
This culinary journey through different Indian provinces with wines from the castles and sacred vineyards of Bordeaux has sparked 67 triumphant pairings with great Indian chefs playing matchmakers.
Taste this: if the curry leaves and coconut of a 'bean thoran' found a worthy partner in the 'rounder and smoother' tasting notes of a Saint Emilion grand cru (wine of the most high quality) or a Vin de France (French table wine), the "satin-textured" Château du Retout with spicy aromas and the "lemon rice" from South India makes for a happy couple. The taste of the lentil and prawn puree of a Parsi 'Kolmi no Patio' finds the right balance with the "fresh on the nose and a frank attack on the palate" ruby ​​red from the vineyards of Château Tronquoy-Lalande while the spice warm and aniseed, the notes of the Grand Cru Classé of Saint Emilion gave the sensation in the mouth that a pork assado à la Goa deserves. Moujon's favourite? "Old Delhi style butter chicken", a dish that started from Moti Mahal and traveled beyond the subcontinent "to enhance the notes of a white Bordeaux".
The team of chefs which included Sanjiv Kapoor, Sriram Aylur, Sarah Todd and Akshraj Jodha from India; the likes of Vivek Singh and Cyrus Todiwala from the UK; and Akshay Bhardwaj and KN Vinod from the United States worked in tandem with Sonal Holland, India's first Master of Wine recipient who led the tastings and Ujwala Samant, a wine connoisseur who also co-wrote the book.
"The format was to pair each recipe with four wines – some whites but mostly reds – to allow people to have choice and range to suit palates and budgets. Sonal Holland came armed with a board of recipes and their ingredients, a spittoon, bread and wine," Samant said, admitting the selection was not easy. "Discussions of seasonings, flavors, Indian meal context and temperatures in India helped us with the wine pairing."
Samant – a former Mumbaikar who discovered wines while living in Bordeaux when vineyard owners opened her taste buds to wine grapes and is currently based in the US where she started a wine tasting group – calls "serendipity" his teacher. "I realized that not serving wine with Indian food was kind of an old-fashioned silliness based on the believer's limited exposure to foods outside of the European table," says Samant who often raised his eyebrows when she could smell freshly peeled green mangoes in a sauvignon. White.
However, Samant's journey of delving deeper into flavors and serving more wine with Indian dishes has taught him that the intricacies of pairing "largely uncharted and sacred territory" are also about using taste instincts. Given the distinctive flavors that define each Indian region – the Maharashtrian cuisine infused with coconut and peanuts, the spicy and tangy food of Goa or the creamy cuisine of North India – "it was a question of which wine fits the creator's vision of the food you eat, and why you feel like it dances well together," she explained, dismissing old chestnuts as "wine is wasted in Indian street food," and "Indian food is too hot and seasoned for wine".
"It's almost like wine is too delicate or Indian food isn't fine enough for wine," says Samant who once served pattice ragdaMalvani kheema chops, pav bhaji, masala peanuts, samosas and Maharashtrian bharit at a fall dinner party in the United States and let his guests choose the wines. "All of our guests – Americans, Europeans, Asians – chose red first, then pink and white. They all said it was a new experience because every time they went to Indian restaurants, they were ordering beer," Samant said, recounting the experience that helped debunk another myth — "that the best pairing for Indian food is beer."
Optimistic that wine is no longer a reserve for the "chic" in India, with young people having a drink and changing winemakers' perspectives on wine production, Samant believes that now is the time to have pops. regional ups with conversations around wine. Its compatibility with bisi bele bhaat Where kosha mangsho Where gushtaba Where idi appams would demystify and democratize what is, after all, bottle-fermented grapes," she signed.
FOLLOW US ON SOCIAL NETWORKS
FacebookTwitterinstagramKOO APPYOUTUBE