Rumi Spice launches a range of seasoned salts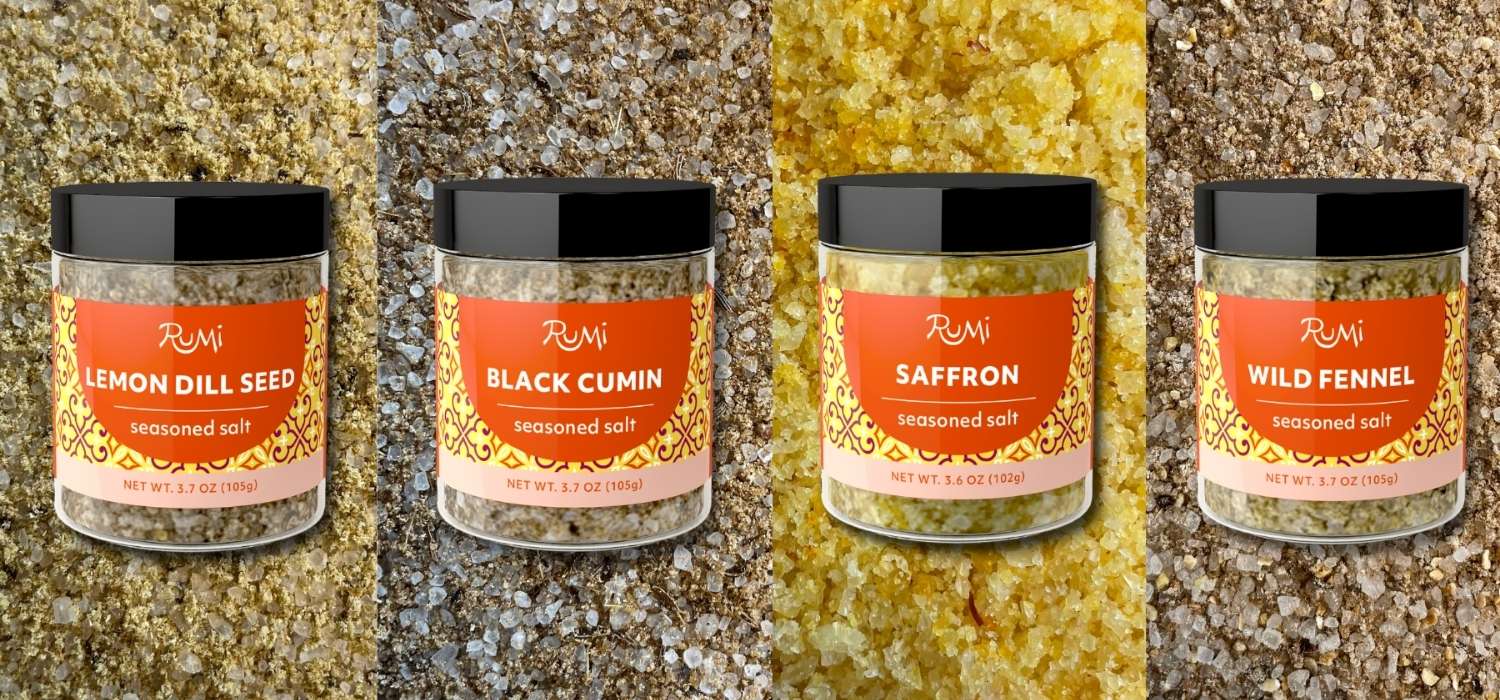 CHICAGO—
Rumi Spice, known for its ethically sourced spices from Afghanistan, announces the launch of its latest innovation: seasoned salts. Rumi Spice Seasoning Salts are made with medium flaked sea salt and a blend of their signature ethically sourced Afghani spices. Versatile to use, these flavor-rich salt blends can be used as finishing salts or seasonings, resulting in a flavor-infused experience. Using Rumi's best-selling Afghan spices, each seasoned salt is part of their mission to continuously create demand and awareness for Afghan agricultural products. By introducing a more versatile product than their flagship range of spices, they hope to reach a wider audience and thus generate greater economic impact for their partner farmers in Afghanistan. Rumi's four seasoned salts celebrate Afghan culture and come in a range of enriched flavors including:
Best used on rice dishes for rich flavor and salty sweetness, or as a finishing salt when baking breads, muffins, pies. Fold some in softened butter for a decadent compound butter.
Best used as a dry marinade on grilled steaks, chicken or lamb skewers and can be sprinkled over roasted vegetables, hummus or your favorite dip.
Perfect for seasoning hearty pork or white fish dishes and sprinkling over roasted vegetables, such as broccoli, carrots or sweet potatoes. Can also be used as a finishing salt on fresh salads.
Makes the best seasoning on your favorite potato dishes. Or sprinkle on eggs, shakshuka, bagels or toast to elevate your simple breakfasts. Can also be mixed with olive oil for a delicious salmon marinade. "We are thrilled to offer our customers their favorite Rumi spices in an exciting new format," said Patti Doyle, CEO of Rumi Spice. "Adding seasoned salts to the Rumi Spice line furthers our mission to introduce Americans to high-quality, flavorful Afghan agricultural products while connecting with their vibrant culture and cuisine." She says. More than 80% of the Afghan population depends on the rural agricultural economy. By sourcing directly from farmers and pickers in this region, Rumi Spice has created agricultural employment opportunities and provided reliable wages for more than 4,000 Afghan women. The success of the spice industry is integral to Afghanistan's economic stability and can affect every member of the villages in which we work, not just those directly involved in harvesting and processing. Sourcing these premium spices directly and connecting Afghan farmers to the global economy not only ensures maximum quality and freshness, but also helps unlock the economic potential of this dynamic region. From June 14, this collection of salts will be available online at RumiSpice.com and Amazon. Starting in the fall, you can find black cumin salt and fennel salt nationwide at Whole Foods alongside the current Rumi spice collection available at Whole Foods.
###
Since 2015, Rumi Spice has been on a mission to use spices as a force for good. Rumi Spice was born out of its founders' desire to cultivate peace in Afghanistan by creating demand for the country's agricultural products. The company began by exporting and selling high quality, sustainably sourced saffron to the US market to connect Afghan farmers to the global market and unlock their economic potential.
Determined to empower Afghan women and reinvest in the country's agricultural and manufacturing infrastructure, Rumi Spice has engaged thousands of women in Herat, Afghanistan to support the hand-harvested production process.
Today, Rumi Spice exports whole spices from Afghanistan which it sells through retail, food service, wholesale and direct to consumer. What started as a single product has now expanded into a range of different spices, spice blends and now salts that bring flavor to the dishes of both home and professional chefs. Rumi Spice is also proud to be certified Company B.