The best places to enjoy a Poké Bowl in Boston right now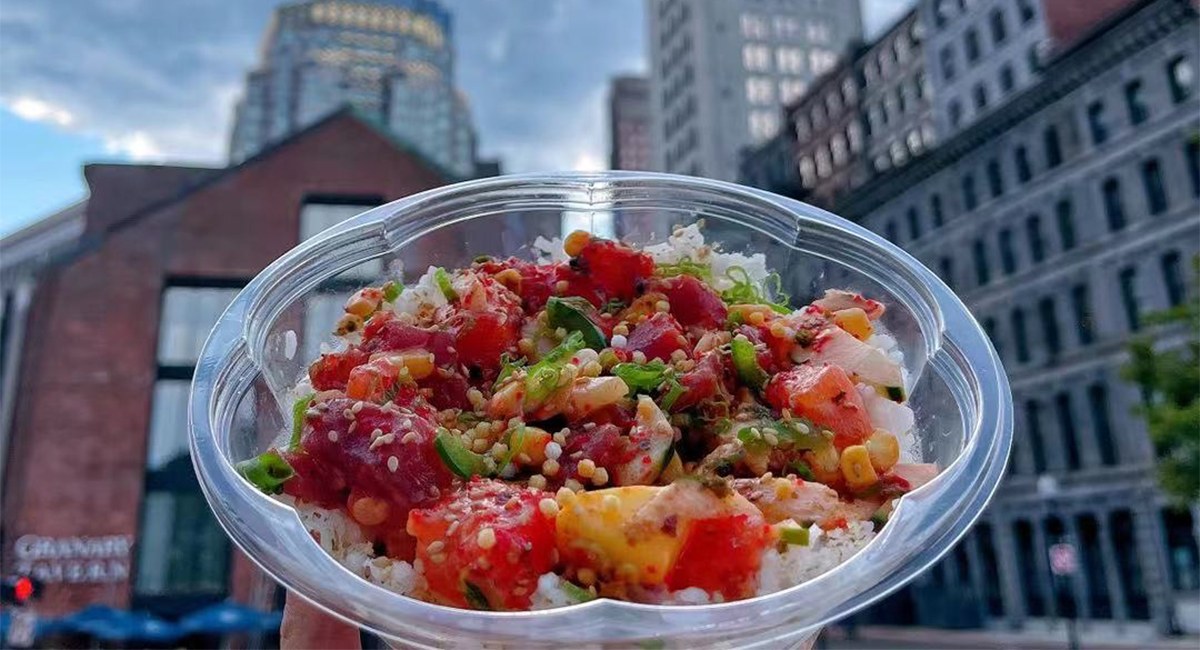 It took a few years for the poké craze to sweep Boston, but now the Hawaiian raw fish dish is no longer a West Coast novelty. Traditional poké bowls, influenced by Japanese and Korean cuisines, feature cubed raw fish on a bed of white rice with a light dressing of soy sauce, sesame seeds and perhaps diced avocado. Modern bowls, however, tend to favor maximalism; many fast casual poké bars offer at least a dozen topping options, from seaweed salad to wasabi peas, and enough sauces to appease all flavor preferences. If sushi's wilder, more customizable cousin isn't already part of your weekly lunch rotation, consider that a sign that it should be. Whether you prefer your tuna, salmon, or even tofu prepared simply or with all the trimmings, we've compiled a list of shops that will do poké your way.
Banyan Bar + Shelter
Chef Phillip Tang describes Hawaii as a "melting pot of Asian cuisine," so it's only fitting that he serves the island chain's signature snack at Banyan, where the menu includes Chinese, Japanese and Korean influences. Tang opts for ahi tuna cubes for his take on the classic Hawaiian dish, dressed with fiery sambal aioli, fresh avocado slices and a sweet, sticky glaze that will leave you scratching the bowl to lick every last bit of it. drop. For extra acidity and crunch, the meal also includes pickled red cucumber, carrots and edamame. We're all for build-it-yourself bowls, but in this case, we're more than happy to let Chef Tang take the lead.
553 Tremont St., Boston, 617-556-4211, banyanboston.com.
Hometown Cafe and Poke Bar
This Providence thrust spot caters to Boston diners through its popular food truck, which sets up near Rowes Wharf Plaza and Massachusetts General Hospital. You'll find bowls brimming with protein of your choice, plus a medley of homemade sauces and toppings like garlic crisps. For a heart-pounding treat, indulge in the jalapeño-topped "spicy shrimp" bowl, drizzled with sriracha aioli. You don't feel fishy? Try the "Veggie Works" dish instead; made with organic tofu and finished with a ginger-shoyu sauce, the bowl is a hearty mix of carrots, kale, seaweed salad, and more.
Hours: 11:00 a.m. to 2:00 p.m., Tuesdays, Rowes Wharf Plaza, Atlantic Ave. and High St., Boston; and 11 a.m. to 2 p.m., Thursday, Massachusetts General Hospital, 45 Blossom St., Boston, hometownpoke.com.
Kitchen Kimchipapi
Inspired by his mother's famous Somerville Korean restaurant, Wuchon House, Joon "Kimchipapi" Son opened his own kitchen in 2018 to honor his mother's culinary heritage and South Korea's street food. Along with classic roadside dishes like ddukbokki (rice cakes and fish cakes smothered in gochujang sauce) and delicious Korean corn dogs wrapped in french fries, Son also serves up loaded poke bowls. Opt for one of his bowls of kimchipapi or kimchimama over a bed of sushi rice with all the trimmings, or create a bespoke bowl with your choice of raw salmon, spicy crab salad, tofu or pulled beef. If you decide to customize, be sure to choose at least two sauces ( spicy mayo and eel, perhaps?) for an ideal poke experience full of flavors.
81 Harvard Ave, Allston, 617-208-8005, kimchipapi.com.
Manoa Poke Shop
Things looked bleak for this Somerville poké shop after a brief shutdown in 2019, but we are happy to report that Manoa is back and brighter than ever. This lunch spot is only open on weekends, so if you want to catch one of the signature tuna and salmon bowls basted in a homemade spicy lilikoi sauce, best to go early. As soon as you walk through the door, you'll be greeted by murals of Hawaiian flora and a counter overflowing with colorful toppings and glittering cubes of raw fish. The poké ahi shoyu, on the other hand, is seasoned with tamari and tossed with thin slices of sweet onion, which add a nice crunch to Manoa's fluffy rice bowls. If you're looking for something a little more adventurous, go for the spicy salmon poké, which gets its boost from kim chee aioli, or the Samoan-style yellowfin poké swimming in a pool of coconut milk, spiced with bird's eye chili. Come hungry and leave with a pleasant buzz on your taste buds.
300 Beacon Street, Somerville, 617-945-1042, manoa.fish.
ONO Pokebar
ONO is one of the newest additions to Boston's poké scene and has already established itself as a local favorite. Tucked under a bustling Japanese noodle lair that's well worth a visit, the unassuming restaurant has plenty of seating if you have time for a leisurely sit-down lunch. ONO's house specialty bowl contains three proteins – salmon, tuna and shrimp – and includes the restaurant's tangy mayonnaise sauce, crispy onions and long stalks of green onions for garnish. We are also big fans of the restaurant rotation over a classic Hawaiian bowl of salmon and tuna poké, with orange slices and a sprinkle of crispy rice. Although you can create your own dish, we prefer to let the experts make the decisions here; all of their curated options are perfect.
1923A Massachusetts Avenue, Cambridge, 617-945-1281, onopokebarcambridge.com.
Poke by Love Art
Restaurant group Love Art has dabbled in sushi and udon before (RIP Love Art Udon), and now they're tackling the art of poké bowls. Their rotating dishes range from a bowl of sesame tamari marinated tuna withmake unagi (eel) sauce and a scoop of mac salad – a Hawaiian lunch staple – in a bowl of spicy salmon sprinkled with nori furikake seasoning, black lava salt and spicy chili chips for a certain texture. When it comes to customizing your meal, try Love Art's pineapple aioli and garlic ponzu sauces, which complement the heat of sriracha-spiced tuna and salmon. Before heading back to the office or making your FMH with your pokemon masterpiece, be sure to order a lilikoi (passion fruit) fresco for a refreshing sip between bites.
103 Beverly St., Boston, 617-588-0889, poke-by-love-art.square.site.
Poke-City
Poké bowls tend to be more expensive, but luckily this downtown poké shop offers affordable dishes that don't skimp on the toppings. With each bowl under $14, it's hard to resist the urge to turn Poké-City into a weekly lunch habit. You'll find all the typical shoyu tuna and spicy salmon offerings here, as well as surf and turf and veggie bowls in case you're worried about how much raw fish you've been eating lately. If you decide to make your own concoction, swap the white rice for zucchini noodles for an extra crunchy (and yes, healthier) meal; noodles are delicious with Poké-City's Sesame Ginger Aioli. If the goal is to cut your lunch budget, Poké City offers a snack-sized bowl for under $7 so you don't have to sacrifice your taste buds for that sad store-bought salad you have. left in the office fridge.
1722 Broad Street, Boston, 857-233-2260, poke-city.com.
Pokeworks
We don't often recommend national chains, but in the case of Pokeworks, we'll make an exception. The California restaurant made waves in New York with its then-revolutionary poké burrito, but the team-worthy Hawaiian-inspired bowls – which, in addition to the usual protein, can be made with lobster, chicken and tofu – are just as tempting. The yuzu-ponzo salmon bowl, for example, is a great choice if you don't have time to debate the intricacies of custom sauce pairings. If you're not in the mood for starchy rice, order the salad plate filled with crisp romaine lettuce and spring mix. Bonus: For a franchise, Pokeworks is pretty good at serving large portions, so if you don't finish your meal, you can save it for a late-night snack.
1440 Massachusetts Ave, Cambridge, 617-441-2999, pokeworks.com.
Japanese restaurant TORA
This intimate Japanese sushi spot serves fresh poke bowls until 4 p.m. Monday-Friday, so if you're looking for a quick spot to meet a colleague/friend/potential client for a light bite, this little basement restaurant is sure to impress. TORA offers eight variations of poké with familiar fish proteins and less typical options including octopus, shrimp, and masago (smelt roe). Order your usual favorite or hook up with the candy ginger-salmon poke topped with peaches and crispy puffed rice. Want more heat? Try it fierier Korean chili poké, chilled with seaweed salad and pickled ginger. Variety is the spice of life, isn't it?
20B Tyler St., Boston, 617-542-6688, toraboston.com.
Waikiki Poke, Sushi, Bubble Tea and Smoothie
Kitschy surf-themed decor and tropical fruits cover this breezy lunch spot, but in all honesty, that only adds to the charm. Decidedly colorful with thinly sliced ​​radishes, cucumbers and avocados fanned out to look like roses, Waikiki's chunky poké bowls are stacked with cubes of marbled salmon and chunks of bright pink ahi tuna that taste so fresh we wouldn't be surprised if they were caught this morning. Unlike some fast-casual poké shops, Waikiki doesn't skimp on portions and lets you choose two to three proteins, plus up to 10 mixes per order. It's easy to get carried away with the thrill of filling your bowl with as many delicious toppings as possible, but here's some good advice: less is more. You'll probably pass by this store in Davis Square frequently anyway, so might as well leave you something to look forward to next time.
27 Holland Street, Somerville, 617-764-1743, waikiki-poke-bar.business.site.
Yoki-Express
When pokes offer too many toppings and mixes, diners sometimes end up drowning out the flavor of fresh fish, the true star of the show. This is certainly not the case at Yōki Express, where quality takes precedence over quantity. Here, you'll find tuna bowls with a light drizzle of sweet soy sauce and spicy mayonnaise, plus fresh greens that don't succumb to the soft sauce. Yōki bowls are a return to form, in a sense, since traditional poké started out as a riff on sleek Japanese sashimi. Still, Yōki's homemade bowls offer plenty of frills. If you like to dress up your poké, the restaurant has plenty of tasty choices, especially in the sauces department. For a sweeter flavor profile, opt for the vibrant Mango Pineapple Dressing. Those at Team Savory, meanwhile, should ask for the creamy sesame sauce and a sprinkle of sriracha mayonnaise.
53 Boston Wharf Road, Boston, 857-263-7418, yokiexpress.com.
---